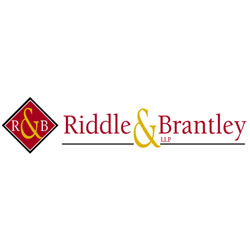 Riddle & Brantley was recognized by the Governor's Office for their volunteer work with the Litter Sweep Spring Cleanup Campaign
Goldsboro, NC (PRWEB) June 26, 2014
The attorneys and staff at Riddle & Brantley, LLP recently participated in the North Carolina Litter Sweep Spring Cleanup Campaign, and received a certificate of appreciation from the Governor's office and the Department of Transportation.
The 2014 Litter Sweep Spring Cleanup Campaign kicked off on April 26 and lasted until May 10. Attorneys, support staff, and family members joined volunteers around North Carolina in picking up trash and litter from the roadways. Riddle & Brantley was in charge of cleaning up over two miles of Stoney Creek Church Road in Goldsboro.
Litter Sweep is sponsored twice a year by the North Carolina Department of Transportation's Office of Beautification. The spring and fall campaigns are launched statewide in an effort to remove litter and trash. Volunteers are given orange trash bags, which can be reversed to become blue recycling bags. NCDOT maintenance crews devote a week of their time during the cleanup to pick up the orange and blue bags.
Participants in the Litter Sweep receive a certificate of appreciation from the Governor's office, as well as the opportunity to be entered into the "Unusual Litter" competition which awards cash prizes for the most interesting or unusual piece of litter found.
The 2014 Fall Litter Sweep Cleanup Campaign is already scheduled for September 20 through October 4. Volunteers interested in participating should visit the NCDOT's Litter Sweep website for additional information.
About Riddle & Brantley, LLP
The attorneys at Riddle & Brantley, LLP use their combined 180 years of legal experience to fight for those who have been injured by the actions or negligence of another person or entity. The Goldsboro, North Carolina-based personal injury law firm handles all types of personal injury claims including auto accident injuries, dangerous drug litigation, medical malpractice, product liability claims, premises liability and workers' compensation. For a free and confidential case evaluation, contact Riddle & Brantley by visiting justicecounts.com or by calling (800) 525-7111 today.
Riddle & Brantley, LLP
601 North Spence Ave.
P.O. Box 11050
Goldsboro, NC 27532
(800) 525-7111