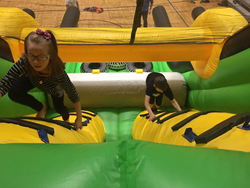 Planning for safety should always be a host's number one priority.
Columbus, Ohio (PRWEB) August 02, 2017
The popularity of renting professional grade attractions has become popular in households across the country. More and more people, especially those with young children, are opting for large backyard parties with inflatables, giant slides and extreme trampolines.
While a backyard party has numerous benefits, like keeping guests of all ages entertained for hours, there also comes an increased chance for an injury or mishap. "Planning for safety should always be a host's number one priority," states Curtis Lovell, CEO of Awesome Family Entertainment based in Columbus, Ohio. He goes on to say, "Many people just think of the need to have fun and how to stay on budget. But in reality, guest safety is key and is why hiring a professional is essential." Professionals are trained, inspected by state regulators and take on the responsibility and liability.
When searching for a company to rent inflatables and other attractions, Lovell recommends asking the following before signing any contracts.
How long has the company been in business?
Ask for the companies incident statistics.
Ask if they are up to date with their inspections and licenses from their state licensing authority.
Ask how their employees are trained on the equipment.
Make sure they are properly insured.
[Watch Curtis Lovell from Awesome Family Entertainment discuss safety for bounce-houses with the Good Day Columbus morning show in Central Ohio.]
So don't be fearful when planning a large summer party, just be smart and always think safety first. "Cutting corners on event activities is never a good idea, states Lovell. You throw an event or party for people to have a good time. The last thing you want is for someone to leave unhappy or even worse, injured."