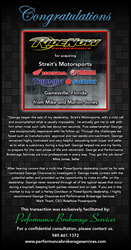 If you are in the market to buy or sell a Harley-Davidson or powersports dealership, I highly recommend George Chaconas and Performance Brokerage Services. - Mark Tkach, CEO RideNow Powersports
Irvine, California (PRWEB) June 26, 2014
Performance Brokerage Services, a Harley-Davidson, powersports and new car dealership broker, announces the sale of Streit's Motorsports in Gainesville, Florida from Michael and Marion Jones to RideNow Powersports. This transaction was exclusively facilitated by Mr. George C. Chaconas of Performance Brokerage Services.
Mr. Hershell Streit, founder of Streit's Motorsports in the early 1970's, began his career in 1947 where he operated out of a 520 square foot building selling bicycles. After seeing success, he relocated the business to a 20,000 square foot facility and added lawnmowers and motorcycles to his product lines. In 1989, Hershell Streit sold Streit's Motorsports to Michael and Marion Jones. Hershell Streit passed away in 2013 at the age of 92.
In 1963, Michael Jones was hired as a mechanic for Hershell Streit, only to later become the General Manager of one of the operations. When Michael purchased Streit's Motorsports, Honda motorcycles was the only brand represented. Michael immediately expanded his offerings to include Yamaha and Kawasaki brands, and during 1999, he also introduced the Suzuki and Triumph motorcycles to the brands offered.
Today, the store boasts 17,250 square feet, located at 4820 Northwest 13th Street in Gainesville, Florida, and comprises of 3 acres along the highway. Ready to retire from the business, Michael and Marion Jones contacted George C. Chaconas, the head of Performance Brokerage Services' National Harley-Davidson and Powersports Division, to help them sell their motorsports dealership. Following the successful sale of his dealership, Michael Jones commented, "George helped me and my family to prepare for the next phase of life and retire from the business. George Chaconas and Performance Brokerage Services are true professionals. They get the job done!"
Owning two dealerships in Ocala, Florida and looking to expand their footprint in the Southeast, RideNow Powersports viewed Streit's Motorsports as an ideal strategic acquisition. The CEO of RideNow Powersports, Mark Tkach, stated "After hearing rumors that the multi-line powersports dealership could be for sale, I contacted George Chaconas to investigate it. George made contact with the dealer and provided us the opportunity to make an offer on the dealership." With headquarters located in Tempe, Arizona and 23 locations nationwide, RideNow Powersports is one of the nation's largest motorsports and powersports dealers. After the purchase of Streit's Motorsports and pleased with the services provided by George Chaconas, Mark Tkach advocated "If you are in the market to buy or sell a Harley-Davidson or powersports dealership, I highly recommend George Chaconas and Performance Brokerage Services."
George C. Chaconas heads the National Harley-Davidson and Powersports Division at Performance Brokerage Services and was the representative for this transaction. Following the sale, George said "It is always a pleasure to work with RideNow Powersports and be a part of their growth and expansion plans. It was also personally rewarding to have assisted Mike and Marion Jones with their desires, and I wish them an enjoyable retirement."
About Performance Brokerage Services
Performance Brokerage Services, an auto dealership broker, specializes in professional intermediary services to buyers and sellers of automotive, Harley-Davidson and Powersports dealerships.
The company offers a different approach to the brokerage industry by providing free dealership assessments, no upfront fees, no reimbursement of any costs and is paid a success fee only. Performance Brokerage Services gets paid only after the client gets paid.
With over 23 years of experience, the company utilizes an extensive network of automotive accountants, attorneys, hundreds of registered buyers and enjoys longstanding relationships with most of the manufacturers. The intermediaries at Performance Brokerage Services have been involved in well over 400 transactions. Pledging loyal and unwavering representation, confidentiality is vigilantly protected during the selling process and after the transaction closes.
With corporate offices in Irvine, California located at 7545 Irvine Center Drive, three satellite offices in Utah, Florida and New Jersey, and a dedicated Harley-Davidson and Powersports division, Performance Brokerage Services provides its clients national exposure with local representation. For more information about the services offered by Performance Brokerage Services, visit http://www.performancebrokerageservices.com.
You may also contact George C. Chaconas directly by sending an e-mail to george(at)performancebrokerageservices(dot)com.