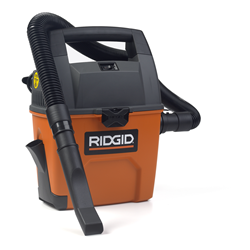 ST. LOUIS, MISSOURI (PRWEB) June 02, 2015
The 3-gallon RIDGID® Portable Pro Vac is a lightweight and portable wet/dry vacuum (model WD3050) designed for Pros and DIYers who want a compact vac that delivers full-sized performance and rugged durability. Additional features include:

Large carry handle for added ease of transport that doubles as storage for the power cord.
The 2'-7' foot Tug-A-Long locking collapsible hose won't pull loose when in use.
Offers non-clogging performance similar to larger diameter hoses with the flexibility of smaller diameter hoses.
Convenient hose and accessory nozzle store on board.
3.5 peak HP motor provides powerful suction for heavy-duty cleanup.
Suction-powered automatic dust pan for convenience
Portable, compact and lightweight design can be used as a handheld vacuum and stores easily.
RIDGID Professional Wet/Dry Vacs are available exclusively at The Home Depot and RIDGID Distributors throughout the United States and Canada. Each unit is built to last and comes standard with the RIDGID Full Lifetime Warranty against defects in workmanship and material. All RIDGID Wet/Dry Vacs use common accessories and all accessories will continue to be available for order from the RIDGID catalog.
For additional information, please visit http://www.RIDGID.com, call toll free: 1-800-769-7743, or contact RIDGID, 400 Clark St., Elyria, Ohio 44035 USA.
About RIDGID®
RIDGID®, a business unit of Emerson®, headquartered in Elyria, Ohio, is a leading manufacturer of innovative tools and equipment for the professional trades. The company's broad offering of more than 300 types of tools serves the demanding needs of customers in the commercial, industrial and energy markets in over 140 countries. For more information, visit RIDGID.com or follow us on Facebook, LinkedIn, Twitter and other popular social media sites.
About Emerson
Emerson (NYSE: EMR), based in St. Louis, Missouri (USA), is a global leader in bringing technology and engineering together to provide innovative solutions for customers in industrial, commercial, and consumer markets around the world. The company is comprised of five business segments:
Process Management, Industrial Automation, Network Power, Climate Technologies, and Commercial & Residential Solutions. Sales in fiscal 2014 were $24.5 billion. For more information, visit Emerson.com.
©2015, RIDGID, Inc. The Emerson logo and RIDGID logo are registered trademarks of Emerson Electric Co. or RIDGID, Inc. in the U.S. and other countries. All other trademarks belong to their respective holders.
# # #
Editor's Note: Please send reader inquiries to: RIDGID, c/o Ultimate Lead, P.O. Box 739, Berea, OH 44017-0739. Or call 1-800-769-7743 for more information.