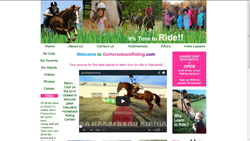 We appreciate your concern for the safety of your kids and yourself. All riders are required to wear helmets for extra safety as well as footwear that completely cover their toes.
Silver Spring, MD (PRWEB) May 02, 2014
GoHorsebackRiding.com is an exciting Maryland based horseback riding resource for kids and adults. It organizes amazing summer camps as well as after school camps to help children acquire new skills and to encourage them to enjoy the outdoors. Discover a fun filled sport with GoHorsebackRiding.com and get friendly with horses by learning to take care of them. One has plenty to choose from the various barns spread across Maryland. There is a lot to absorb from the wide variety of topics taught. Combination of generous riding time with demonstrations, videos and hands-on experience in horse management and care enthralls the campers.
Talking about the children's summer camps offered, a senior executive from GoHorsebackRiding.com stated, "GoHorsebackRiding.com's summer camps are an interesting way for beginners to get to know horses because it offers `hands-on' approach with grooming and handling sessions as well as daily riding lessons. For more experience the continuity of daily lessons and increased individual attention help campers and joiners progress even faster than in weekly horseback riding lessons. Tour of the facilities at the Maryland horse center can be undertaken and people can also interact with the horses as well as the instructors. Interested individuals can also engage in their first horse riding lesson which is offered after a short discussion on horse safety."
As part of the summer camps kids are taught the basics of horse riding and how to teach98 them to walk, halt and trot while controlling the direction of horse. Safety comes first for the equestrian pros therefore all the school horses under saddle are tested on regular basis. Experienced riders too get individual attention to help them hone their riding skills. All the riding lessons are imparted under the guidance of skilled instructors.
Speaking about the safety measures adopted in the camps, a senior official from GoHorsebackRiding.com commented, "We appreciate your concern for the safety of your kids and yourself. All riders are required to wear helmets for extra safety as well as footwear that completely cover their toes. We only entertain full length pants and all lessons are conducted under the watchful eyes of trained and experienced instructors."
The exciting summer camps organized by GoHorseRiding.com in Maryland are particularly designed for kids between 5 to 16 years of age. Located in idyllic surroundings the camp keeps kids occupied in a sensible way and is nothing less than a super-fun place. Visit http://www.gohorsebackriding.com/contactus.html to know about horseback riding lessons in Maryland summer camps. Tour the website to view videos and photos of the camps and learn more about the various lesson packages offered to riders. Explore and visit to know more about summer camp in Maryland.
About GoHorsebackRiding.com:
The equestrian centers of GoHorseRiding.com are located in central Maryland with scenic beauty all around. Adults as well as children can enroll in the summer camps offered by them to enjoy the outdoors and get acquainted with the horses. All the required tack and equipment for the riding lessons are provided by the center and learners are placed in different groups according to their age. Children aged between five to seven years are placed in the Pony Pal classes and need to be accompanied by their parent. Click here to learn more about Maryland horseback riding lessons offered to riders. For complete price and packages of horseback riding lessons in Maryland, explore the website.
Contact Details:
GoHorsebackRiding.com
1701 Ednor Road Silver Spring,
MD 20905, United States
Telephone: 301-421-4481
Web: http://www.gohorsebackriding.com/