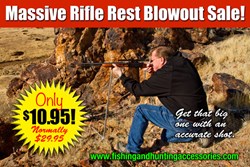 This is a massive sale on Rifle Rests. Once they are gone, they are gone!
Sparks, NV (PRWEB) September 10, 2013
Grapplers Inc. announces a Massive fishing pole and rifle rest blowout sale! Hunting season is just around the corner and one of the best ways to help a hunter reach his goal of a successful hunt is with a rifle rest which can help aim the rifle and make it more easily shoot a distant target. It can increase the accuracy of the shot by steadying the rifle.
Almost all fishermen can use a fishing pole rest to hold their pole waiting for the fish to bite. Having multiple fishing pole rests means is easier to use multiple poles while fishing. They work great on beaches, alongside lakes or streams, or even from the back of a boat (when not moving).
The best news of all is that if someone is a hunter, many times they also like to fish and so the Grapplers fishing pole and rifle rest combination is a 2-in-1 package that is perfect for them. It is both a rifle rest and a fishing pole rest at the same time. You don't have to use two different apparatus to accomplish the same goal, they are one in the same.
But Grapplers has decided to get out of this industry and is selling their entire inventory at a massive discount. These great fishing pole and rifle rest combos that are for sale for only $10.95 each. The normal retail price on these is $29.95 so it is almost a 64% discount. But they are also offering even more of a discount for multiple sales. And once they are gone, they are all gone. There won't be any more available.
This may be just the thing you're looking to get for yourself, or for the hunter or fisher person in your family. Imagine how happy they would be knowing that they got the right shot because the rifle rest helped them achieve it! That same tool will also help them catch their limit of fish that are now stored in the freezer.
You can go to their website and buy rifle rest online using a credit card or PayPal account. Their friendly customer service staff will walk you through the process and make sure that you get the exact product you are looking for.
About the Company: Grapplers Inc. was started by Jay and Bonnie Thiessens in 2002. They pride themselves on selling the only American-made grabber tool on the market today. Based in Sparks, Nevada, the company has won numerous awards and has been recognized nationwide for their achievements in the commercial-grade clean-up tool industry. They can be reached by calling (877) 212-5803 or going to their website.