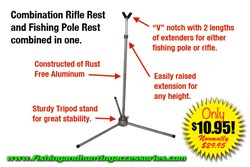 What a Great Discount on these Rifle Rest and Fishing Pole Rest Combo Tool!
Sparks, Nevada (PRWEB) October 29, 2013
Grapplers, Inc. is announcing a massive blowout sale on its popular line of rifle rest and fishing pole rest combo tools. This sale includes a selloff of all of the tools, as the company does not plan to stock any others once they are out of inventory.
The rifle rest and fishing pole combo tool makes hunting and fishing easier for any hobbyist or professional. It provides a secure, strong surface upon which to rest a rifle or fishing rod, enabling each sportsman to focus on game with concentration and a sure, steady hand. These resting tools hold guns and poles in place to ensure the best shot or catch of game possible while sportsmen relax and enjoy their hobby.
Rifle rest and fishing pole rest combo tools also offer a safe and portable way to store fishing poles and guns during down time. By resting a pole or rod against one of these lightweight yet sturdy tools, a sportsman may assure that both guns and fishing poles are safely stored off the ground and away from harm. This provides the equipment with protection against breaking, and ensures the safety of everyone in the area.
Normally priced at $29.95, these helpful tools are now on sale for a reduced price of $10.95 each. For those who want to buy in larger quantities, please contact Tammy for a great deal on these great devices. They may be purchased for personal use, business use or gifts for birthdays or holidays. Multiple purchases are eligible for additional discounts upon checkout. The two-in-one tool is especially beneficial for people who both fish and hunt as a sport, job or hobby.
Company officials advise fisherman and hunters to get these tools while they last. Individuals who wish to learn more about the rifle rest and fishing pole combo tools and how they help improve your sporting experiences may find out more information at http://www.fishingandhuntingaccessories.com/.
About the Company:
Grapplers, Inc. is an award-winning business created by Jay and Bonnie Thiessens. The company sells specialty hunting and fishing accessories that feature cutting-edge technology to provide Americans with the most quality-made products available. The company provides each customer with helpful staff, prime customer service, and excellent quality products. Grapplers, Inc. makes it a high priority to listen to customers and provide them with the best service possible.