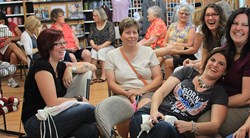 Professional demonstrations on fiber arts crafting, exclusive storewide discount, thousands of dollars in prizes with fresh snacks and wine from 1-3pm, yes this is the biggest fiber arts party of the year at Paradise Fibers.
Spokane, WA (PRWEB) September 27, 2013
Paradise Fibers is hosting a free open house event featuring mini-workshops on fiber arts complete with fresh snacks and thousands of dollars worth of raffle prizes. A store wide sale will be in effect the day of the event for attendees. Fiber arts instructors will be on hand demonstrating techniques and basic skills in their various crafts.
Paradise Fibers' own Taryn Winegardner will be demonstrating basic spinning of custom art yarns, fiber processing and also spinning on a drop spindle. Amy Kenagy, another instructor at Paradise will be demonstrating knitting techniques with Chantel Black sharing crochet secrets and more. Dye instructor Charles "Heisenberg" Kerr will be demonstrating fiber and yarn dyeing basics and yes, he looks exactly like Bryan Cranston from Breaking Bad but is much nicer.
Cathian Reavis, former wingwalker, will be bravely demonstrating knitting on the new Knitter's Pride knitting needle sets. Paradise Fibers' weaving instructor Kyle Bickley will be on hand demonstrating the basics of Rigid Heddle Looms, Table Looms and general weaving. This promises to be one of the biggest knitting, weaving and spinning parties of the year at Paradise Fibers.
Over $2500 worth of Lantern Moon Rice Baskets full of exotic yarns, spinning fiber, and weaving supplies will be raffled off between 1-3pm. Sponsors for the event include Foxglove Fiberarts, Lantern Moon, Cascade Yarns, Skacel, Addi Turbo Needles, Bergere De France, Takhi Stacy Charles, Kollage, Glimakra, Unicorn Books, Bryson Needlearts, Ashland Bay Spinning Fiber and Glimakra Looms.
The event is free with 200 RSVP spots that guarantee a goody bag and a raffle ticket but RSVP is not required to attend. Exclusive sale discounts are good for the entire day of the open house.