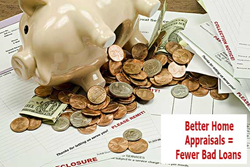 "Today complex home appraisals are better understood at the point of submitting them to the GSE's. Quality control people are working on complex appraisals and take over with manual scrutiny." ~ HousingWire
Minneapolis, MN (PRWEB) October 03, 2013
Improving home appraisal data standards, processes, and data collection methods remain at the center of Fannie Mae and Freddie Mac reform efforts. The more GSE's can know about the loan pre-purchase, the more government can minimize the number of home loans that go bad. Nearly 1400 home appraisals have gone through the GSE's new portal, according to a HousingWire live webinar today. Through more advanced home appraisal automation processes, they can now look at 100 percent of the loans coming in.
"From a practical stand point, when someone is buying millions of home loans, there is no way to closely look at every individual homeowner loan. If the loan went bad in the past they could review it on the back end. It worked well up until the housing market crashed because of home price appreciation," says Jenna Thuening after completing HousingWire's webinar. As owner of Home Destination, Thuening sees first-hand how the more rigid home appraisals impact Minneapolis home sellers.
Fannie Mae's October 1 letter titled, Quality Control and Additional Information Related to the Ability to Repay and Qualified Mortgage Requirements, states how they have worked together with Freddie Mac to formulate and align on certain requirements. Both received federal bailouts in 2008, and are in the position to press banks to buy back mortgages that soured during the nation's housing downturn. Going forward they can be more certain that uniform home appraisals have been done. According to the New York Times, Wells Fargo agreed to pay $780 million in cash to Freddie Mac to resolve substantially all repurchase liabilities on home loans sold to Freddie before 2009.
In Fannie Mae's letter to lenders, it was clearing laid out that should a reason for review surface after a home closing involving a Fannie Mae loan, they will need to produce all materials and tools used to document compliance. This may include files like rate sheets, data on how the home appraisal was set forth, or other materials concerning the interest rate and any discount points offered to the borrower.
"One consequence of the subprime mortgage crisis is a far more rigid home appraisal process. Borrowers can complain about lower than expected appraisals — which may mean they can't borrow enough to meet an agreed-upon sale price, or can't refinance — but lenders very rarely reconsider", states a New York Times article published September 12, 2013.
Real estate buyers who try later to rebut an appraisal are likely to find their efforts fruitless. It is more effective to come to the purchasing table with a list of recent and comparable home sales with the property to be appraised. "I think you have your best shot and maybe your only shot before the appraiser shows up at the house," Patrick Galway, an appraiser and the manager of the Town & Country Real Estate told the New York Times.
"GSE's are the rule makers and require the lender to purchase the home loan back if violations are made," adds Thuening. "Today's webinar made it clear that after GSE's have focused on appraisals, appraisals are now very huge and robust. They have fewer false positives with appraisal risk scoring practices and tools and the lending community is adjusting to that. This is turn will ease Fannie Mae losses."
Fannie Mae is staying the course of its anti-predatory lending review measures for selected loans. With home appraisals new documentation and data trail, the measures in place include compliance with Fannie Mae's policy on "high-cost mortgages" under the Home Ownership and Equity Protection Act (HOEPA) provisions of Regulation Z. Quality control and repurchasing of home mortgages subject to the ability of the borrower to repay is a central theme of Fannie Mae's website.
Home Destination, a Minneapolis professional Realtor with RE/MAX Results, informs homeowners of their home appraisal processes, as well as listing their home and marketing to draw a strong homebuyer pool. Prospective Minneapolis home buyers who are preparing to buy a home in the next six months, may reach Home Destination at 612-396-7832.