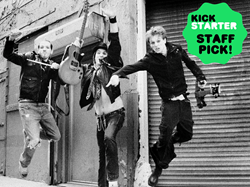 "Sex, Drugs, and Rock and Roll Couldn't Kill Him. But, His Family's Willing to Try."
New York, N.Y. (PRWEB) December 18, 2014
What do you do when Brett Ratner, Russell Simmons, Ben Stiller, Steven Weber, Rosanna Arquette, Rita Moreno, Lesley Ann Warren, Griffin Dunne and Ed Asner are all pushing your cable series, and still, there's no deal in sight? Get your grandmother on the case, of course!
After five years of shopping their comedy project, Rock in a Hard Place -- about a Jewish punk legend who leaves rehab and winds up trying to reconnect with his crazy family, including 3 kids, 2 ex-wives, and an over-bearing mother -- around Tinsel Town, and getting stuck in more catch-22's than Sisyphus, the show's creators, Huffington Post contributor and former Rosenbergs' front-man, David Fagin, his writing partner/sister, Stephanie Jones, and their producing partner, actress Gina La Piana, decided to put the project on Kickstarter and get 'grandma' involved.
"Everyone who reads the script or sees the trailer asks, 'Why isn't this on T.V.?'" says Fagin, who composed the theme to Jenna Elfman's last sitcom, Accidentally on Purpose, for CBS. "So, we thought, what better way to see if there is, indeed, an audience out there for this show than a crowd-funding campaign?"
They took to Kickstarter and posted two sizzle reels. One in which grandma narrates the backstory of the characters, and one in which she flat out interrupts the grandkids' pitch and takes over, herself.
"We wanted to give people a little feel of where some of the show's humor lies," says Fagin's sister, Stephanie. "We did it on a shoestring budget so, hopefully, it's funny."
So far, the trio have managed to raise close to $40k of their $50k goal. But, financing a movie via crowd-funding is one thing. Raising funds for a television show is another.
While an independent film done well has a pretty good chance of finding an audience as well as distribution, shooting an independent cable pilot is the equivalent of trying to cross the Atlantic in 1492. There's definitely something there, but the waters are uncharted, the risks are huge, and cruises are simply not a popular mode of vacationing, yet.
However, all those potential pitfalls are not stopping the likes of Arquette, Moreno, and Asner, three Hollywood icons, from staying with the project through thick and thin.
Ms. Moreno, the first Latino to win a Grammy, Emmy, Tony, and an Oscar, says she's inspired to be part of the project. "The script to Rock in a Hard Place really struck a chord with me - no pun intended. It's one of the best things I've read in a long time and I'm excited to be a part of a project that's pushing the boundaries of traditional distribution as we know it."
Ms. Arquette says, "I believe in this show whether or not a studio is behind it and will do whatever I can to see these amazing characters brought to life."
Mr. Asner was not available for comment, as he was napping.
Ms. La Piana adds, "As crazy a ride as it's been, we are firm believers in screenwriter William Goldman's timeless quote, 'No one knows anything.' And the fact that these three, legendary talents have hitched their wagon to ours, not only validates the independent pilot as an up and coming medium, it legitimizes the show in the eyes of their fans as well as potential backers/sponsors."
With regard to the obvious 'Jewish' tone of the project, Fagin says, "Guilty as charged. Growing up with a mother who sang in the Catskills during the heyday of the Borscht Belt and getting to hang around legends like Buddy Hackett, Alan King, Jackie Mason and Robert Klein will do a number on anybody," he adds.
Ms. Jones comments, "Although we incorporate a lot of the 'tsuris' a typical Jewish family goes through, ultimately, it's a show about forgiveness. Forgiving your parents. Forgiving your kids. Forgiving yourself. And we feel that's something everyone can relate to."
Arquette will executive produce as well as play the role of "Janice," the 'momager' of her famous teen daughter whom she shares with the rocker and treats like a piece of meat.
Playing a Jewish mother should be no problem for Moreno, who recently played one in Fran Drescher's short-lived TV Land sitcom, Happily Divorced. Moreno will play "Mimi," the family's feisty matriarch, and Asner will play "Irving," Moreno's new boy toy.
"We're not expecting HBO to swoop in and pick it up, but with a hundred new companies a week jumping into the content pool, it really doesn't matter if your show was produced by Home Box Office or Home Depot," says Fagin. "What matters is that it finds an online audience. From there, anything's possible."
If successfully funded, the pilot will be directed by Gil Junger (10 Things I Hate About You).
To donate a few shekels to the project click here.
Rock in a Hard Place: "Sex, Drugs, and Rock and Roll Couldn't Kill Him. But, His Family's Willing to Try."