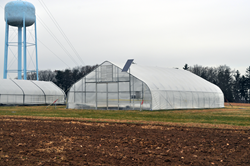 Growers adore flexibility and options," Dr. Kleinhenz said. "If they want to move their high tunnel today, they should have that option.
Hooksett, NH (PRWEB) January 07, 2015
Rimol Greenhouse Systems is scheduled to release an addition to its movable product line, the Movable Feast Greenhouse, this spring. Available as a 30' x 48' greenhouse structure, the Movable Feast is designed to increase greenhouse efficiency and widen crop rotations. A focus on improving soil quality for greenhouse plots was also a point of emphasis during its development.
Rimol Greenhouses collaborated with renowned American farmer/educator Eliot Coleman and Ohio State University's Extension Vegetable Specialist, Dr. Matt Kleinhenz while designing the Movable Feast Greenhouse. Rimol Greenhouses introduced the Rolling Thunder in 2008 as its first movable greenhouse. It believes its latest structure will be an attractive option to growers looking to cultivate on terrain previously not able to take advantage of a movable structure.
"Growers across the country are constantly tinkering with their own high tunnels," said Dr. Kleinhenz. "They are always looking for features to improve on, which is why the communication between growers and greenhouse manufacturers is so important -- the more the manufacturers listen, the sooner they'll make a change to the structures they design."
The Movable Feast Greenhouse allows growers to keep soil conditions as natural as possible. Exposing fertile soil to outdoor elements such as rain, snow, direct sunlight and winter frosts is important for nutrient replenishment. Given that the Movable Feast Greenhouse can be relocated using hand winches, the amount of effort for greenhouse relocation is much less compared to rival applications. This encourages growers to improve their soil's biological and physical health and lower the amount of required compost for each plot.
"The Movable Feast will save growers a lot of money," said Coleman. "The presence of the lift wheels eliminates the need for a running track, which gives growers a chance to cultivate the outermost points of a greenhouse plot. Otherwise, weeds and debris along the sidewalls would get trapped under the tracks."
The lift wheel system is the key to moving the greenhouse. This newly-designed system features five 13-inch diameter wheel barrow wheels that run along each sidewall of the greenhouse. Prior to moving, a vertical lever that is part of each lift-wheel is pushed down and pinned into place. The wheels allow the Movable Feast to move forwards and backwards. sideways. Following relocation, the lift wheels are unpinned, taken away, and stored under cover. This assures that the greenhouse sits flat on the ground and eliminates outdoor air from creeping in under the sidewalls.
"Growers adore flexibility and options," Dr. Kleinhenz said. "If they want to move their high tunnel today, they should have that option. More importantly, relocating your movable greenhouse should be done in relatively quick time, which is what the Movable Feast offers. It shouldn't matter if the terrain is rocky or sloped."
Other notable features include end walls that can be opened at the bottom, therefore allowing movement over the top of plants and raised beds. Also, the Movable Feast requires less effort to construct and secure into place as its vertical hoops are attached to a horizontal metal base tube. This eliminates the need for tubes driven into the earth which is not ideal for rocky terrain.
"There's this kind of value in it being movable," Dr. Kleinhenz said. "In my view, the Movable Feast's ability to be moved and secured with relative ease is a major benefit to growers. It's an improvement on an already solid concept. Movable high tunnels have a bright future, which made developing the Movable Feast a worthwhile experience."
About Rimol Greenhouse Systems:
In 1994, Bob Rimol, owner of Rimol Greenhouse Systems, decided to leave his home state of New Jersey and relocate with his young family to New Hampshire. Bob began working as a greenhouse manufacturer's representative specializing in structures and systems.
However, he soon realized the need to "build a better mousetrap" and set out to customize greenhouse technology in order to better suit the needs of his customers. Bob then founded Rimol Greenhouse Systems in order to provide innovative and quality greenhouse technology for local growers.
Rimol Greenhouse Systems has since developed a number of free-standing greenhouses, benches and an entire line of products to complement the greenhouse structures. Other structures include the movable The Rolling Thunder™, high tunnels, and hydroponic systems. All Rimol Greenhouses are designed to be economical, yet rugged enough to handle the harshest snow and wind conditions experienced in New England and many other regions of the country.
Today, Rimol Greenhouse Systems has become a major greenhouse manufacturing company and has developed a brand name synonymous with quality. Although the company has grown and expanded, Rimol Greenhouse Systems still ensures that it is meeting the individual needs of every customer. Rimol products can be found all across the United States.