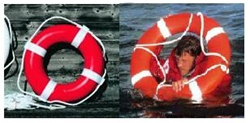 24 inch orange ring buoy is the most popular. These ring buoys are US Coast Guard approved.
Los Angeles, CA (PRWEB) December 16, 2014
Ring buoys or lifebuoys are often used in pools, boats, and in large bodies of water. A ring buoy can be easily thrown with the person out of the water holding the nylon rope connected to the ring buoy. From there someone can be drawn back to safety and stay afloat. Because ring buoys rely so much on strength, it is important to have an United States Coast Guard approved item that is made with quality and made to last. Now Lifeguard Master, the lifeguard supply store, has a new line of ring buoys and throw lines that are all approved by the United States Coast Guard.
Lifeguard Master offers two bright orange ring buoys. One is 20-inches wide and the other 24-inches wide. The 24 inch orange ring buoy is the most popular and used by professionals around the world. Both are approved by the United States Coast Guard and are classified as a Personal Floatation Device Type IV. Made of a solid closed cell foam material throughout the ring, these buoys are soft and resilient to the touch, while at the same time tough and durable on the inside. The material resists weather and temperature extremes while not rotting or mildewing. Although the 20-inch ring buoy is available, the 24-inch ring buoy is most commonly used because of the variety of victim ages and sizes it can be used for.
Ring buoys can be easily tossed to the victim and can go places lifeguards cannot reach. Excellent for pools, boats, or even on the side of a riverfront, ring buoys are a great tool to have around and easy to use. To view a video description of one of the ring buoys, please click on: Ring buoy video
Throw lines do not usually come with ring buoys and must be obtained or purchased separately. Lifeguard Master offers two throwing ropes in their line. The first is the white throw line which measures 60 feet and comes with a wall hook. The 1/4-inch thickness makes the line easy to throw and thick enough to serve as a heaving line. The second throwing rope has a yellow line and is also 1/4-inch thick and 60 feet long. A perfect accessory to ring buoys, the rope is easy to see and is light enough to throw yet durable enough to heave someone into safety. To view a video of one of these throw lines, please click on: Throw line video
The next set of lifebuoys in the new line of ring buoys are the 24-inch and 20-inch white ring buoys. Also approved by the United States Coast Guard and classified as a Personal Floatation Device Type IV, these ring buoys are made from a solid closed cell foam throughout the ring. The material is soft to the touch and resilient. Able to withstand extreme temperature and weather, these rings will not rot or mildew for a long lasting, reliable, and safe ring buoy.
Whether it be the 2 orange ring buoys or the 2 white ring buoys, these 4 in total ring buoys are the elite in the industry. They are versatile and used by the pro's across the globe and will meet the standard and above standard requirements of any situation.
No matter the environment, ring buoys are a great tool to have around in case emergency strikes. Whether it is a pool, lake, riverfront, dock, or ship, ring buoys are easy to use and convenient to store. With six different ring buoys to choose from, different sizes, and color choices, Lifeguard Master offers ring buoys for everyone.
At least one Type IV PFD is required on all boats 16 feet or larger, with the exception of canoes and kayaks. Those looking to use a ring buoy simply have to hold onto the rope, aim, then throw the buoy to the victim. From there, those on safety can slowly pull the life buoy toward boat or land.
The last set of two buoys in the line are the 19-inch and 24-inch Lifeguard Economy Buoy. These ring buoys are for the economical shopper. These two life saving economy buoys are sturdy and convenient, making them great to have around on a boat, ship, pool, dock, or lake. Ring buoys make it easy to provide immediate rescue and safety to a drowning victim with little or no training.
Lifeguard Master has been in the emergency and life saving industry for many years. Sammy, the owner and founder of Lifeguard Master has been a lifeguard himself for 7 years. He knows the importance have having all the equipment readily available for a first responder, and through the years Lifeguard Master has become a robust lifeguard supply and lifeguard store company, accommodating the anticipating needs of first responders around the country and around the world. Lifeguard Master's determination to excellence and rescue safety has quickly made it a leader in its industry. For more information, please give us a call, send us an e-mail or visit our website. Also to stay updated with the latest news in emergency supplies, please visit our forum where rescue professionals from around the country and world stay connect, and post the latest emergency news at LifeguardsOnline.com.
Sammy
Lifeguard Master
(714) 605-3090
http://LifeguardMaster.com