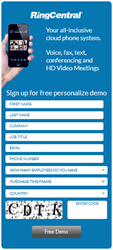 Potential clients can use this personalized RingCentral Office demo to test-run this all-inclusive cloud phone system.
(PRWEB) August 11, 2014
RingCentral Office's new personalized free demo has recently been added to all Bizwaremagic sites, including OnlineFaxGuide.com and IntenetFaxGuide.org. This convenient demo lets a potential customer or business sign up for a personalized test-drive of RingCentral's popular all-inclusive virtual office phone system.
RingCentral Office is a cloud-based phone system which includes voice, fax, text, conferencing and even HQ video meetings. This comprehensive virtual PBX phone system has numerous features and advantages - many of them exclusive to a cloud-based system. Unlike a traditional landline system, set-up can be done in a matter of minutes, instead of weeks with a hard-wired phone system.
In addition, because this is a virtual phone solution, it is completely portable and mobile. In this age of cell phones and computers, having a wireless mobile communications system is crucial to the success of any business. Having instant contact with employees and/or clients, regardless of where they are located, may just prove to be a vital factor which can't be ignored in today's extremely competitive business world.
Cost savings is another advantage, especially for smaller companies and start-ups. There are no initial costs for equipment or installation since everything can be handled online and even through current smartphones - although eventually many companies do purchase VOIP phones for the office.
For larger companies, going the virtual route, can also prove to be very beneficial. One's phone system and the number of lines can be easily scaled up or down, according to your company's growth or economic conditions. This flexibility is important if a company is to keep operating costs to a minimum and remain competitive.
RingCentral Office now offers these potential clients and businesses the opportunity to test-run its virtual PBX phone system with a very convenient personalized demo. This demo is available for the United States, Canada, United Kingdom and other countries around the world. Companies can save both time and money by checking out these services to see if they are suitable for their businesses.
Bizwaremagic.com is a well established 12 year old small business solutions site. It offers free guides, reviews and the latest discounts on marketing tools and services. Our RingCentral Office Review & Demo is located here: http://www.bizwaremagic.com/RingCentral_Office_Review.htm or download our comprehensive online fax guide here: http://www.internetfaxguide.org. All products/companies mentioned above are registered trademarks of their respective owners and companies.