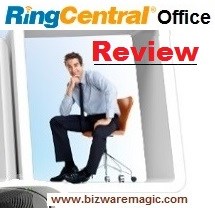 New RingCentral product features or improvements makes its virtual phone services more convenient and flexible.
(PRWEB) September 05, 2013
Recently, RingCentral added several new features or improvements to its popular virtual phone services, including Call Park, Intercom, Business SMS and RingCentral App for the Salesforce.com site. All these new additions are explained in detail on the Bizwaremagic's RingCentral Office Review webpage, which has now been updated with the latest information.
In brief, these new RingCentral features or improvements will enhance all office or business communications within any company. Basically, these features will make all calls and messages easier to manage and access. They will give companies more flexibility and convenience when interacting with workers, colleagues and clients.
Here is a basic rundown of the new features and their main benefits:
Call Park - lets one park calls in the cloud where they can be retrieved from any phone in your company or organization. This offers great convenience and flexibility since 50 (inbound/outbound) calls can be parked simultaneously - if the recipient is unavailable, any worker can pick up the call at their desk phone. Keep in mind, one can receive parked calls from remote locations, so traveling employees or workers are covered.
Intercom - is a new feature which lets one announce calls and ping colleagues for quick conversations. This means announcements can be made to workers/colleagues in any location from one's desk phone. This feature can also be customized to determine who can contact you. The Softphone can be used to initiate Intercom to any RingCentral desk phone.
Business SMS - lets one send professional text messages to colleagues, clients, and departments from your business number. Use one business number to send/receive all your voice, fax and text messages. One can send/receive 160 character messages to/from any RingCentral extension or 10-digit local numbers. Business SMS lets one seamlessly text messages across many devices such as tablets, smartphones and PCs - there are RingCentral apps for iPhones, iPads using iOS 4 and higher and Android smartphones versions 2.3 and higher. One can also remove unwanted calls with number blocking and/or creating a spam blacklist.
RingCentral App for Salesforce.com - lets one have seamless integration between RingCentral phone systems and Salesforce CRM. This features will save time by eliminating misdials with quick click-to-dial from within Salesforce; this frees up time for selling or servicing customers and less time dialing. Easily collaborate within Salesforce and manage all your company's calls and records.
Overall, by offering greater convenience and flexibility, these new RingCentral product additions or improvements, will make its services much more attractive to many small and medium sized companies. And as the business world slowly moves into our new "wireless" reality, virtual phone and PBX systems will no doubt become the norm, rather than the exception.
To read this Updated Review of RingCentral Office go here: http://www.bizwaremagic.com/RingCentral_Office_Review.htm.
Founded in 2002, Bizwaremagic.com is an Internet Marketing website, dealing with all aspects of running a business - online and in the real world. It has been fairly successful, welcoming millions of visitors over the years and helping thousands of business owners find new solutions to common obstacles. You can find the site on the web here: http://www.bizwaremagic.com or you can follow us on Twitter @bizwaremagic. All products/companies mentioned above are registered trademarks of their respective owners and companies.