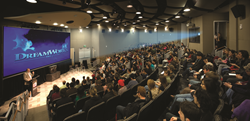 Working with real clients while still being a student is priceless; it's low-risk but has the high pressure and countless outcomes possible in a real job setting. These experiences have provided me with insight into my own future
Sarasota, FL (PRWEB) November 03, 2014
Ringling College of Art and Design president Dr. Larry R. Thompson today announced the "Collaboratory Commitment," an exceptional new initiative designed to enhance the competitiveness of future Ringling graduates. The "Collaboratory Commitment" guarantees that every student enrolling in the College beginning in the fall of 2015 will have the opportunity to participate in a professional work experience with real clients, real deliverables and deadlines before graduation. This type of client work is often completed through the Collaboratory at Ringling College, a partnership between Ringling College and The Patterson Foundation. The "Collaboratory Commitment" was announced in a talk before several hundred prospective students and their parents at Preview Day activities on the Ringling College campus on Saturday, November 1st.
"Students embarking on a job search without the benefit of professional experience are at a real disadvantage in today's competitive job market," stated Ringling College President Dr. Larry R. Thompson. "Employers are looking to hire graduates who have professional work experience, references, and a proven ability to communicate, collaborate, and use creativity to solve organizational challenges. These attributes help an employer determine if a prospective new hire will fit into the company culture, adapt well to change, and offer value to his or her team from day one on the job."
"There is an expectation that, in addition to demonstrated competence in the discipline in which the new graduates were trained, that they will also be 'practice ready' professionals," said Dr. Thompson. "However, recent graduates find themselves in a Catch 22 situation: They have challenges getting a job because they lack experience; at the same time they need to have a job to get that experience. The Collaboratory Commitment solves that problem for Ringling College of Art and Design students BEFORE they graduate!"
Thompson continued to discuss how in today's environment, the emphasis of the media seems to focus on the difficulty college graduates have in obtaining employment. This raises the question as to whether college is worth it. The Collaboratory Commitment is one way Ringling College is addressing this issue head on, helping students get more than skills and education, but also experience.
According to the May 2014 Gallup Purdue Index there are crucial elements that overwhelmingly influence graduates' success in their careers and life/well-being. One key finding was that college graduates who engaged in experiential and deep learning activities during their college experience doubled their odds of being engaged at work.
Ringling College students will have numerous options to choose from to gain this "real-world," "real-time" project experience with clients. Students/graduates can feature those projects on their résumés and in their portfolios. Options will include faculty-supervised Collaboratory class projects and charrettes (intensive 1-3 day sessions that bring clients and students together to work on solutions to a client's design challenge); the Design Center, focusing on design projects for local non-profit organizations or the College itself; the College's ARTNetwork (All Ringling Television Network) producing television and multimedia broadcast programs; the film and entertainment industry-focused Studio Lab where students work side-by-side with world renowned film and entertainment professionals; as well as joint class assignments and special projects.
Other professional opportunities such as full- and part-time employment, internships, freelance, and service learning engagements will also be made available to students through the Center for Career Services, the Office of Student Life, and other administrative departments.
The new commitment is named for The Collaboratory, the recently established program responsible for managing experiential learning programs for Ringling College students that are customer-focused, design-based solutions for businesses, nonprofits, and government agencies. The Patterson Foundation of Sarasota, Florida is funding the early phases of The Collaboratory operation and makes this new experiential learning commitment possible. The Collaboratory is also responsible for coordinating the Collaboratory Commitment to ensure that every student who wants such an opportunity will be able to get one before they graduate.
"Ringling College provides comprehensive professional development resources that compliment our classroom instruction. Our extensive programming includes providing our students with a variety of client-based, professional experiences ensuring that each Ringling College student is guaranteed the opportunity to work in at least one professional setting prior to graduation," explained Associate Vice President for Collaborative Enterprises, Cynthia Gravino.
Working in real-world, real-time settings with real clients, The Collaboratory's faculty-led interdisciplinary student teams mimic the diversity of skills and job functions in professional settings. They are tasked with branding, positioning, user experience, service innovation, interior and product design challenges that can greatly impact an organization's future growth and success.
Ringling College of Art and Design establishes a culture of professionalism for students before the first year class arrives on campus. Within a few weeks of receiving their acceptance letters, the College's Center for Career Services sends all incoming freshmen a packet to get them started on their career plans. Every student gets a 4-year planning calendar to map out his or her entire Ringling experience, semester by semester. "The Center for Career Services encourages early use our office to situate job, internship, and the foundational career techniques firmly within the academic processes for empowered success," said Center for Career Services Director Charles Kovacs. "And, unlike many colleges and universities, Ringling College Career Services are available to our graduates for life!"
Ringling College students who have participated in Collaboratory projects find the experience life changing. As Ringling College Senior Keith Nielsen, majoring in the Business of Art & Design, detailed in his experience working with a major American toy manufacturer, "I was able to get a great understanding of the company, its culture and its target demographic. In my most recent project I was selected as project manager and using my business education in concert with my traditional art background, collaborated with seven other students to create an engaging pitch within a 4-hour deadline. We made the deadline and provided the client with not only research and strategic recommendations but also clear deliverables. Working with real clients while still being a student is priceless; it's low-risk but has the high pressure and countless outcomes possible in a real job setting. These experiences have resulted in me understanding several industries, how they work and provided me with insight into my own future."
According to Graphic Design student Carly Lohr, "Being in the Collaboratory has been a great experience for me and I liked that there were so many upperclassmen because I learned how to work together in a team. Our client was the Sarasota Police Department and we created the new 'Blue + You' branding for the department. The client was so involved with us and even occasionally added their ideas while we brainstormed. I am so glad I took this class because it really changed my perspective about what the process is like to come up with something that is really going to happen."
"At Ringling College we are 'Shattering the Myth of the Starving Artist®' and our new Collaboratory Commitment will help prove to the business world the immense talent of artists and designers. Our students' ability to tackle diverse business challenges – working right alongside client company professionals – is testament that we are educating tomorrow's creative leaders today," concluded Dr. Thompson.
For more information about The Collaboratory Commitment please visit http://www.ringling.edu/collaboratory.
About Ringling College of Art and Design
Ringling College of Art and Design is a private, not-for-profit, fully accredited college offering the Bachelor's degree in 11 disciplines: Advertising Design, Business of Art & Design, Computer Animation, Film, Fine Arts, Game Art, Graphic Design, Illustration, Interior Design, Motion Design, and Photography & Imaging. It is recognized as being among the best and most innovative visual arts colleges in the United States as well as a leader in the use of technology in the arts. For more information, please visit http://www.ringling.edu.
# # #