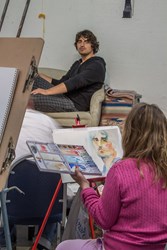 Sarasota, FL (PRWEB) September 13, 2013
Registration is now open for an expanded array of afternoon, evening and weekend art workshops for adults and teens through Continuing Studies and Special Programs at Ringling College of Art and Design. Classes begin September 18 through December 8, and range from one-day workshops to 10-session courses. Enrollment is ongoing through early December. Space is limited and early registration ensures enrollment.
Over 40 courses explore a variety of media, and offer something for the advanced studio artist looking for exploration in new media, the novice seeking an instruction in techniques, and the professional wishing to acquire skills needed to thrive in the workplace. Practicing artists have an opportunity to hone their skills under the guidance of Ringling College faculty in state-of-the-art, professionally equipped facilities. Media includes painting, drawing, sculpture, photography, the digital arts, and more.
RCAD's extensive course offerings meet the needs of a growing number of local professionals employed in creative fields, including designers, marketing professionals, art educators, interior designers, photographers, and healthcare professionals. Workshops for entrepreneurs and other business professionals include a full range of digital technology courses. Teachers may earn CEUs, and adults and teens are able to earn certificates in focused courses of study.
Workshops begin at $50, and multiple-session courses range from $115 to $325. High school students may enroll in adult classes.
For a complete course listing and to register, visit http://www.ringling.edu/CSSP or call Diane Zorn at 941-955-8866.
CONTACT:
Diane Zorn
Assistant Director, Continuing Studies and Special Programs
Office: 941-955-8866 • Email: dzorn(at)ringling(dot)edu
Founded in 1931, Ringling College of Art and Design is a private, not-for-profit college offering the BFA/BA Degree in 14 disciplines. The College is a member of AICAD, and is accredited by NASAD, SACS, and CIDA, formerly FIDER.