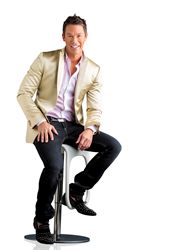 Our graduates can relate to his pathway to success and we are very happy to have him come back to Ringling to speak to provide inspiration for their futures
Sarasota, FL (PRWEB) April 09, 2015
Ringling College of Art and Design president Dr. Larry R. Thompson today announced that David Bromstad, Ringling College class of 1996 graduate and artist, designer and television personality, will be the commencement speaker for the Class of 2015 graduation ceremony on Thursday May 7th, 2015 at 3:30 PM at the Bradenton Area Convention Center, 1 Haben Boulevard, Palmetto, Florida, 34221.
"David is a Ringling College Illustration Program class of 1996 alumnus who represents all majors with his focus on both art and design and the business of art and design," said Dr. Thompson. "His success is a great example of the entrepreneurial spirit that is so much at the core of Ringling College. Our graduates can relate to his pathway to success and we are very happy to have him come back to Ringling to speak to provide inspiration for their futures."
After graduating from Ringling College, David worked for Walt Disney World, Universal Studios and Islands of Adventure to complete very large thematic installations. He then became the original winner of Home and Garden Television's (HGTV) Design Star, which led to his first hit series for HGTV, Color Splash, where he completed more than 150 makeovers around the country. David has gone on to achieve significant success in the business of art and design, and as a professional artist and designer. (David's full bio follows release)
About Ringling College of Art and Design
Ringling College of Art and Design is a private, not-for-profit, fully accredited college offering the Bachelors of Fine Arts degree in 11 disciplines: Advertising Design, Computer Animation, Film, Fine Arts, Game Art, Graphic Design, Illustration, Interior Design, Motion Design, Photography & Imaging, and a Bachelor of Arts degree in the Business of Art & Design. Located in Sarasota on Florida's Gulf Coast, the picturesque 48-acre campus now includes more than 110 buildings, and enrolls nearly 1,300 students from 48 states and 65 countries. It is recognized as being among the best and most innovative visual arts colleges in the United States as well as a leader in the use of technology in the arts. http://www.Ringling.edu
About David Bromstad
David Bromstad, Artist, Designer and Television Personality, is the original winner of HGTV's Design Star, which led to his gig as host on his first hit series for HGTV, Color Splash where he completed more than 150 makeovers around the country including San Francisco, New York and Miami. David has also appeared on HGTV programs including HGTV'd, HGTV Showdown, Bang for Your Buck, and many more. He is the host and mentor of HGTV Design Star, HGTV Star and HGTV's Color Splash and has appeared on the Oprah Winfrey, Ellen DeGeneres, Ricki Lake, Nate Berkus, Good Morning America and The Wendy Williams shows. David's design advice has also been featured in HGTV Magazine, USA Today, People magazine, RedBook, Forbes Travel, Huffington Post and Better Homes & Gardens, to name a few.
Growing up in small town Minnesota, David's budding creativity and passion for drawing and painting led him to the Ringling School of Art and Design in Sarasota, Florida eventually launching his career at Walt Disney World in Orlando shortly after completing his education – a dream come true! David has conceived and executed major installations for Walt Disney World, Universal Studios and Islands of Adventure. David's installations are a focal point at many of the world's top amusement parks and seen by millions of visitors every year. David produced his first exhibition of art and custom furniture for Art Basel Miami Beach, the country's top art event in December 2011.
David Bromstad himself was the first ever HGTV personality to be named to the OUT Magazine 100 List alongside international superstar Ricky Martin and Oscar-nominated actress Julianne Moore. In 2011, he was given the prestigious HRC Visibility Award for living an out and proud lifestyle in the public eye. He was also the recipient of the Miami Dade Gay and Lesbian Chamber of Commerce 2012 Business Person of the Year Award.
David's signature paintings are available to the public through a partnership with Penny Lane Publishing (http://www.pennylanepublishing.com). He has a bedding and bath textile line produced by 1888 Mills, which can be purchased in stores throughout the country and on Amazon.com. Both art and bath lines along with a complete line of Bromstad home interior products can be purchased through Grandin Road (http://www.grandinroad.com/indoor-decor/david-bromstad) as well as a beautiful new woman's shoe line, Bromstad for Naturalizer, produced by the Brown Shoe Company (http://www.naturalizer.com/bromstadcollection). David is a former Creative Consultant for DuPont™ Corian® solid surface material and DuPont™ Zodiaq® quartz surfaces. David is currently partnering with Kipling on a stunning Fall 2015 collection for luggage, and hosting his show, HGTV's My Lottery Dream Home, taking recent lottery winners on over-the-top house hunts for their new dream home.
Both commercial and residential design services are offered through David Bromstad Designs. For more information please visit David's webpage at (http://www.bromstad.com) or follow David on FaceBook (85,000+ likes) - facebook.com/davidbromstadtv, Twitter (51,200+ followers) - http://www.twitter.com/bromco - Instagram (17,200+ followers) Instagram.com/bromco and Pinterest (120,100+ followers) - http://www.pinterest.com/davidbromstad/.
For management inquiries please contact Ken Slotnick at (Kslotnick(at)agi-entertainment(dot)com). For media inquiries please contact Jen Styles at (jen(at)workshopcollective(dot)com)