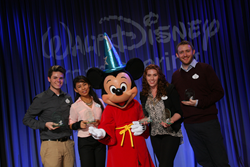 We value the time and effort Walt Disney Imagineering allocates to driving the Imaginations design competition and inspiring creativity in universities across our country.
Glendale, CA (PRWEB) February 03, 2015
The student team from Ringling College of Art and Design were announced as the first place winners of the 24th Walt Disney Imagineering Imaginations design competition during an awards luncheon at Imagineering headquarters in Glendale, California on Friday, January 30th. Imaginations is a design competition created and sponsored by Walt Disney Imagineering with the purpose of seeking out and nurturing the next generation of diverse Imagineers. Started in 1992, the program has grown to include a separate version sponsored by the Hong Kong Disneyland® Resort.
For this year's Imaginations design competition, students from American universities and colleges were given the following challenge: Take what Disney does best today – from its world-class theme parks, resorts, cruise ships, and other entertainment venues that are globally highly popular with families - and apply it to transportation within a major city. The team's Disney transportation experience should include station/stops and vehicle designs that reflect the diversity of the city, and are accessible, energy-friendly, and fun.
First place was awarded to Elizabeth Fox, Diana Han, John McDonald and Josh Newton of Ringling College of Art & Design. According to Fox, from Wesley Chapel, FL and majoring in Interior Design and minoring in Business of Art and Design (BOAD), "The experience of collaborating with different majors was one of the most exciting and rewarding parts of Imaginations. Each teammate came to the table with a completely different skill set that in the end, complemented each other very well and together we were able to create a diverse, well-rounded and ultimately winning project." Team member John McDonald is a Computer Animation major from Massapequa, NY; Diana Han an Illustration major from Torrance, CA and Joshua Newton an Illustration major from Owensville, IN.
Their project, "The New Orleans Double Rail" is a symbol of hope for a city that's greatest challenge is its location below sea level. The New Orleans Double Rail features two separate elevated trains to satisfy the needs for both commuters and tourists coming to explore the city in an entertaining and unique way. The main Jackson Square station is the central hub that engages the community and celebrates New Orleans' local food, music and art. The Double Rail soars above the city, with the top train catering to the comfort of the daily commuter and the lower train that uses window projection systems to tell the story of the city of New Orleans by creating a magical and unforgettable sightseeing experience.
"We are very proud of the professionalism and creativity shown by the Ringling College team in designing such an innovative and imaginative transportation solution," said Ringling College of Art and Design President Dr. Larry R. Thompson. "We value the time and effort Walt Disney Imagineering allocates to driving the Imaginations design competition and inspiring creativity in universities across our country. And to our Ringling College Imaginations student team -- Elizabeth, Diana, John and Josh – we applaud your achievement."
Twenty-one college students from six university teams were finalists in Walt Disney Imagineering's 24th Imaginations design competition. Imaginations is one of the creative ways that Imagineering uses to search for the next generation of talented theme park designers. The top three placed teams were awarded cash prizes, with the first place team receiving $3,000. An additional $1,000 grant was awarded to the first place team, to be equally divided among its sponsoring universities.
The six teams of finalists visited Walt Disney Imagineering in Glendale from January 26 to 30 to make professional presentations to the judging panel, meet and network with Imagineers, go behind the scenes where Disney magic is created, and interview for paid internships during their visit.
A panel of Imagineering judges applies the same criteria to the entries as they would to their own work that includes the team's ability to collaborate across different disciplines and backgrounds; the mastery of their individual skills; whether the project provides an engaging Guest experience; a good understanding of the local and tourist market in the chosen location; the ability to tell a compelling and engaging story; and knowledge and passion for the Disney brand and Walt Disney Imagineering. Additionally, the project should be unique in that it is not limited to what Guests already experience at Disney parks and resorts.
The competition is open to students from colleges and universities in the United States who are juniors, seniors or full-time graduate students; or graduated no earlier than May of this year, and enrolled in courses in Architecture, Animation, Communications, Computer Science, Construction/ Project Management, Creative Writing/ Screenwriting/Playwriting, Design, Engineering, Fine Arts, Game Design and/or Development, Graphic/ Communications Design, Illustration, Industrial Design, Interactive Media Design, Interior Design, Landscape Architecture, Media Production (Digital, TV, Film), Theater Design and Production, and Visual Arts.
Second place was awarded to the team from Art Center College of Design for "The Wunderkinds," a journey through Zurich highlighting the intricacy and integrity of Swiss craftsmanship. Highlighting Switzerland's most famous products: chocolate, the Alps, and timepieces, the team found that these shared a sense of joy, adventure, and imagination, encompassed by the feeling of "wonder" as the true heart of mastery of these crafts. "Wonder" is the theme - and thus the Wunderkinds were born. The four students on the team are Susey Chang, Waiji Choo, Katherine Park and Josephine Tsao.
Third place was awarded to the team from Drexel University for their "Woollahra" which connects the districts of Liverpool, Hornsby and Sutherland to a main station in the central business district of Sydney, Australia. Also an interactive experience, Woollahra unites Sydney, both geographically and spiritually, using the campfire, a long held place of storytelling and culture, to gather people to share traditions from the past, stories of the lives and vision of what is to come. The four members of the team are Bader Al Moulah, Ahmad Jamal, Justin Petronglo and John VanZelst.
Walt Disney Imagineering is the unique innovative organization that creates – from concept through construction – all Disney theme parks, resorts, attractions, cruise ships, real estate developments, and regional entertainment venues worldwide. The name Imagineering combines imagination with engineering. https://disneyimaginations.com/
Ringling College of Art and Design is a private, not-for-profit, fully accredited college offering the Bachelors of Fine Arts degree in 11 disciplines: Advertising Design, Computer Animation, Film, Fine Arts, Game Art , Graphic Design, Illustration, Interior Design, Motion Design, Photography & Imaging, and a Bachelor of Arts degree in the Business of Art & Design. Located in Sarasota on Florida's Gulf Coast, the picturesque 48-acre campus now includes more than 110 buildings, and enrolls nearly 1,300 students from 47 states and 65 countries. It is recognized as being among the best and most innovative visual arts colleges in the United States as well as a leader in the use of technology in the arts. http://www.ringling.edu
Contacts:
Frank Reifsnyder --‐ Walt Disney Imagineering, (818) 544-2142
Tim Choy, Peter Goldman --‐ Davidson & Choy Publicity, (323) 954-7510
Rich Schineller --- Ringling College of Art and Design, (941) 780-8100
The projects and concepts presented are not necessarily intended to be built by Disney – they are a way for the entrants to demonstrate their skills and creative abilities. In consideration for the opportunities provided by Imagineering, submissions become the sole property of Walt Disney Imagineering and Imagineering retains all rights to use and/or display the submissions and the materials