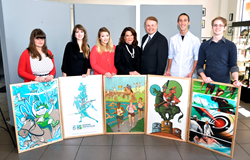 We believe that by including art, education and culture we will create a broader experience for our spectators and guests as well as showcase the splendor and diversity of the area
Sarasota & Bradenton, FL (PRWEB) February 10, 2015
To support the theme of arts, education and athleticism for the 2015 Modern Pentathlon World Cup #1, students of Ringling College of Art and Design were challenged by the Sarasota Bradenton Modern Pentathlon Organizing Committee (SBMPOC) to create compelling graphics for the event.
Thirty-three Ringling College students participated, producing numerous images including logos and posters designed specifically for the Modern Pentathlon. The winning artwork for the event poster, program cover, T-shirt, tote bag and mug designs were selected by the SBMPOC with its Chair, Katherine Harris and unveiled at a press conference at the college. Top submissions will be on display at the Pentathlon Village at Nathan Benderson Park February 20-22 and will be on sale at the madeby Gallery at Ringling College in from February 10th to 28th.
The student winners are as follows: Cameron Kramer, Illustration Senior (Event poster), Kade O'Casey, Illustration Junior (Program Cover and Tote bag design); Hailey Patalano, Illustration Senior (T-shirt design); Kyle Beckett Illustration Junior (T-shirt design); and Katherine Granger, Illustration Junior (mug and T-shirt Design).
Dr. Larry R. Thompson, president of Ringling College of Art and Design, noted that this was an amazing opportunity for students and for the community. "This is the second year running that our students have been able to contribute to developing the brand and image for the Modern Pentathlon," Dr. Thompson said. "We value the experience for them as well as for being able to help strengthen Sarasota's reputation as a top-tier sporting destination."
In addition to having her work featured on the event poster, Cameron Kramer will receive a $500 scholarship from the SBMPOC.
According to Katherine Harris, Chair of the SBMPOC, the Arts were once a large part of the early Olympic Games and medals were awarded to artists until 1940. In addition to Ringling College's Art contest, to honor the Olympics' history, SBMPOC is reintroducing art, education and culture into the competition by offering a variety of activities, exhibits and performances by local organizations.
"We believe that by including art, education and culture we will create a broader experience for our spectators and guests as well as showcase the splendor and diversity of the area," Harris continued. "We have already raised awareness within the global community for Sarasota-Bradenton as a venue for Olympic-level sporting events, now we want to showcase our arts and education, as well."
Along with a full schedule of world-class sporting events, highlights of the Modern Pentathlon will include the Opening and Closing Ceremonies that unite art, education and athleticism. Set for Tuesday, February 17, 5:30 p.m. to 8:30 p.m. at the John and Mable Ringling Museum of Art, Opening Ceremonies will feature a full parade of athletes; presentation of colors by Sarasota Military Academy; Pershing's Own U.S. Army Brass Quartet; Gloria Musicae; Rowlett Boys Choir; and the Pineview Chorus.
Closing Ceremonies, on February 22 from 5 p.m. – 6:30 p.m., will feature performances by Herrmann's Royal Lipizzans, Circus Arts Conservatory - Sailor Circus, the West Coast Black Theatre Troupe, Jacobites Pipe and Drum Band and a surprise nationally renowned musical performance. In addition, visitors to NBP are welcome to browse the Pentathlon Village where they will find culinary delights as well as educational exhibits and arts and athletic organizations promoting their specific programs. It will be open Friday, Saturday and Sunday from 11:30 a.m. – 5:30 p.m.
For more information about the Sarasota Bradenton Modern Pentathlon, including a complete list of all participating organizations, events and the competition schedule, or to purchase tickets please visit http://www.sbpentathlon.com/ or call 941-564-9003.
About the Sarasota Bradenton Modern Pentathlon Organizing Committee (SBMPOC)
The 2015 Modern Pentathlon World Cup #1 provides residents and visitors to the Sarasota-Bradenton area the opportunity to witness the world's most complete athletes compete in an Olympic qualifying event. By infusing a blend of art, education and cultural events into the competition this year, organizers have created a mini-Olympic style experience for the participants and spectators. For more information visit: http://www.sbpentathlon.com/.
About Ringling College of Art
Ringling College of Art and Design is a private, not-for-profit, fully accredited college offering the Bachelors of Fine Arts degree in 13 disciplines: Advertising Design, Computer Animation, Digital Film-making, Fine Arts, Game Art & Design, Graphic & Interactive Communication, Illustration, Interior Design, Motion Design, Painting, Photography & Digital Imaging, Printmaking, and Sculpture, and a Bachelor of Arts degree in the Business of Art & Design. Located in Sarasota on Florida's Gulf Coast, the picturesque 48-acre campus now includes more than 110 buildings, and enrolls nearly 1,300 students from 42 states and 53 countries. It is recognized as being among the best and most innovative visual arts colleges in the United States as well as a leader in the use of technology in the arts. http://www.Ringling.edu