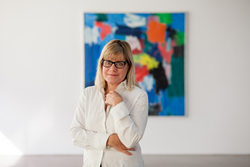 Expect new ground to be broken, new audiences developed and new experiences offered for museum-goers
(PRWEB) March 10, 2015
Ringling College of Art and Design president Dr. Larry R. Thompson and Wendy G. Surkis, president of the Sarasota Museum of Art/SMOA, a division of Ringling College, today announced that Anne-Marie Russell, Executive Director of the Museum of Contemporary Art, Tucson (MOCA), has accepted the position of Executive Director for the Sarasota Museum of Art (SMOA). Anne-Marie begins with SMOA on May 1st, 2015.
"We are excited to have Anne-Marie take the reins at SMOA and bring her expertise to help us build a world-class museum of modern and contemporary art in Sarasota," said Ringling College President Dr. Larry R. Thompson. "Her knowledge of contemporary art, success in starting a new museum and proven fund-raising capability combined with her operational experience and record of integrity and transparent governance provide a solid foundation for us to offer provocative and revolutionary programming along with educational initiatives commensurate with the ever-growing creative reputation of our community."
"I have been tracking SMOA's progress for some time and a project of this magnitude is not something that happens every day," Anne-Marie Russell stated. "I had been very impressed, from afar, with the enthusiasm, passion and support of the community and when I received news of the SMOA search on my birthday, I took it as a sign and threw my hat into the ring. I was impressed and inspired with Larry's visionary leadership, Wendy's infectious enthusiasm, their easy camaraderie and the warmth and intellectual curiosity of everyone I met during the interview process. An opportunity like this comes along once in a lifetime and having built one museum I felt I could really contribute to this project. Especially exciting is being attached to Ringling College, which brings immediate creative cache' and credibility to our project as education is the lifeblood of a successful museum. I look forward to getting to know the community and building upon the work done to date by Larry, Wendy and SMOA's many supporters to craft a globally-renowned and locally relevant program."
Anne-Marie Russell served as Executive Director and Chief Curator of MOCA since 2003. She established recurring revenue streams and cultivated corporate partnerships to build a stable financial foundation for MOCA, managed the adaptive re-use of three facilities, fostered economic development in Tucson, participated in the prestigious Warhol Initiative and increased grant award success. Anne-Marie gained renown as a curatorial wunderkind, working with globally renowned artists to develop and produce large-scale, site-specific installations while developing educational and leadership alliances to mentor the next generation of cultural producers and foster inter-generational knowledge transfer, producing over 75 educational programming events annually.
"I am thrilled with Anne-Marie's comprehensive background, initiative, 'can do' personality and experience with previous adaptive re-use projects. Anne-Marie's history of stellar leadership, passionate understanding of the visual arts and her boundless energy to share her knowledge will lead SMOA toward the vital role of an intellectual, culturally stimulating community asset. I am confident she will guide our growing city on inquisitive and expansive art adventures for adults and children. This is very, very exciting for SMOA and Sarasota," said SMOA President Wendy Surkis.
According to Rocco Landesman, renowned Broadway theatre owner and Chair of the NEA from 2009-2012, "Anne-Marie is a friend, an inspiration and an irresistible force. If her leadership in her new post is as dynamic as it was in Tucson, Sarasota has scored a coup. Expect new ground to be broken, new audiences developed and new experiences offered for museum-goers."
"As devastated as we are to lose Anne-Marie Russell, MOCA, its board and staff are thrilled that she has this amazing opportunity ahead at Ringling College and the Sarasota Museum of Art," said Courtney J. McEniry, President, MOCA Tucson Board of Directors. "Her engaging personality, superior organizational skills, world-wide network of connections, deep commitment to the contemporary art world, stellar resume and unlimited quantities of pure energy make her the ideal person to handle even greater challenges ahead. We know that SMOA will thrive under her guidance and that her legacy will continue to move MOCA Tucson forward. "
"Because we built such a strong team at MOCA I feel comfortable accepting this challenge," Anne-Marie continued. "I am excited to begin meeting everyone involved with SMOA starting with when we attend 'Avant-Garde' at Ringling College on March 21st. Especially impressive to me has been the level of volunteer engagement through the pre-renovation ARTMuse programs at SMOA – to me it is such an encouraging barometer of community arts interest and support. I am ready to listen, I am not coming into this with a predetermined program but together we will craft a bespoke program that really connects back to the needs of our community - unique to Sarasota but international in scope and scale and appeal."
Anne-Marie has an M.A. in Art History from the University of Arizona and a B.A. in Anthropology from the University of Colorado. Anne-Marie is also an accomplished art documentary filmmaker who has created feature length documentaries on Vik Muniz and Salvatore Scarpitta. Prior to MOCA, Anne-Marie was an Adjunct Instructor at the University of Arizona from 2001-2006, co-founder of Mixed Greens, a New York-based organization devoted to promoting and distributing the work of emerging artists and filmmakers and from 1994 – 2001 was Resident Faculty at Christie's Auction House in New York developing, implementing and gaining accreditation for a unique M.A. program in modern and contemporary critical connoisseurship, art market and collecting history and theory. Linda Sweet of Management Consultants for the Arts conducted the executive director search for SMOA.
Renovation of SMOA's historic Sarasota High School building is underway and will preserve the architectural integrity of the iconic high school building. Completion is anticipated in the first quarter of 2016.
As Sarasota's first art museum devoted to modern and contemporary art, SMOA will interweave exhibitions, educational programs and community outreach initiatives to engage a diverse audience and serve as a stimulating hub for creative discovery. Ringling College and SMOA are transforming the former Sarasota High School building into nearly 60,000 square feet of exhibition space, a 110-seat, multi-purpose auditorium, sculpture court, indoor/outdoor café, classrooms and studios providing education programs for adults and children, and meeting spaces.
SMOA has already been engaging and educating the community through the ARTmuse program which has featured artists Lisa Hoke and Patrick Dougherty. Their public works exemplified the power of art to engage residents and visitors, with hundreds of volunteers helping both Lisa and Patrick create their works and thousands visiting and walking through their creations. Additional ARTmuse artists were: Judy Pfaff, Seth Randall, Janet Echelman and Lesley Dill as well as Museum professionals Karole Vail, Curator from the Guggenheim and Stephen Brown, Curator from the Jewish Museum.
About Sarasota Museum of Art
Sarasota's first museum of modern and contemporary art will be a dynamic destination for exhibiting innovative and compelling visual art of the 20th and 21st centuries. A vital part of Sarasota's rich cultural legacy, the museum will interweave exhibitions, educational programs and community outreach initiatives to engage a diverse audience and serve as a stimulating hub for creative discovery and discourse.
About Ringling College of Art and Design
Ringling College of Art and Design is a private, not-for-profit, fully accredited college offering the Bachelors of Fine Arts degree in 11 disciplines: Advertising Design, Computer Animation, Film, Fine Arts, Game Art, Graphic Design, Illustration, Interior Design, Motion Design, Photography & Imaging, and a Bachelor of Arts degree in the Business of Art & Design. Located in Sarasota on Florida's Gulf Coast, the picturesque 48-acre campus now includes more than 110 buildings, and enrolls nearly 1,300 students from 48 states and 65 countries. It is recognized as being among the best and most innovative visual arts colleges in the United States as well as a leader in the use of technology in the arts. http://www.Ringling.edu