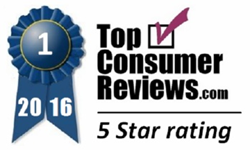 Terrasil earns our best rating for Ringworm products in 2016.
Overland Park, KS (PRWEB) August 30, 2016
TopConsumerReviews.com recently gave their highest rating to Terrasil, a highly-effective product used to fight Ringworm.
Ringworm is a fungal infection that most commonly affects the skin, hair, and nails. The name is derived from the circular appearance typically made by the rash, not from an actual worm. Ringworm is highly contagious, with reinfection posing a serious problem given that the fungal spores can remain dormant for up to a year and reactivate when they come in contact with the skin. Prescription treatments can be extremely expensive and have significant side effects, leading many sufferers to explore natural, over-the-counter alternatives.
"Terrasil combines the gold standard of fungal treatment, clotrimazole, with all-natural ingredients like organic beeswax and tea tree oil, resulting in a highly effective solution for Ringworm," described Brian Dolezal, of TopConsumerReviews.com, LLC. "Users report seeing significant results in just a few days, eliminating both the fungus itself along with the itching, rash, and irritation it causes. Best of all, Terrasil is one of the few Ringworm products on the market to offer a 90-day refund policy, giving customers ample time to determine if it works effectively on their infection. Terrasil earns our best rating for Ringworm products in 2016."
To find out more about Terrasil and other treatments for Ringworm, including reviews and comparison ratings, please visit the Ringworm category of TopConsumerReviews.com at http://www.topconsumerreviews.com/ringworm/.
About Terrasil
Terrasil is produced by Aidance Scientific, an FDA-registered manufacturer of breakthrough over-the-counter dermatological products. The company's research of all-natural skin treatment spans more than 10 years and has yielded remarkable discoveries incorporating the company's patented drug delivery technology. Aidance prides itself on offering products that are based on proven science and documented product effectiveness. The company also seeks new ways to educate customers about skin problems, natural ingredients and safe treatments.
About TopConsumerReviews.com
TopConsumerReviews.com, LLC is a leading provider of independent reviews and rankings of hundreds of consumer products and services. From Ringworm to Lice and Medical Alert Systems, TopConsumerReviews.com delivers in-depth product evaluations in order to make purchasing decisions easier.