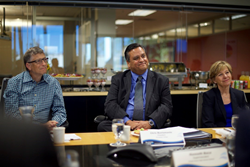 'We were truly impressed by Mr. Gates' request to meet with students and were honored to help bring them together.' --Dr. Chris Bustamante, Rio Salado College President
Tempe, AZ (PRWEB) December 04, 2014
Bill Gates, co-chair of the Bill & Melinda Gates Foundation, CEO Sue Desmond-Hellmann and other leaders from the Bill & Melinda Gates Foundation visited Rio Salado College on Thursday, Nov. 6 for a progress report on a student success program called RioAchieve, which is being developed by the college and supported by the foundation.
Maricopa Community Colleges Chancellor Dr. Rufus Glasper and Rio Salado President Dr. Chris Bustamante were among the key leaders from the District and college to greet Gates and foundation leadership.
"Having met with Bill Gates and members of his staff during their visit to Rio Salado College, I'm delighted that he and the Gates Foundation value their relationship with us so much that they personally visited Rio to see the college's programs dedicated to student success," said Glasper.
"It is not every day that Bill Gates pays you a visit," said Bustamante. "This was a chance for us to give him a first-hand account about the innovative work we're doing at the college and what we've been able to accomplish through RioAchieve."
The foundation leadership team included CEO Sue Desmond-Hellmann, President of U.S. Programs Allan C. Golston, U.S. Director of Education of Postsecondary Success Daniel Greenstein, U.S. Deputy Director of Postsecondary Success Suzanne Walsh, and U.S. Program Officer of Postsecondary Success Art Seavey.
Gates and the foundation leaders attended meetings with Rio Salado and MCCD leadership, members of the President's Advisory Board, Rio Salado faculty, staff and students who are benefiting from RioAchieve. They also had a chance to see demonstrations of RioAchieve initiatives at work and learn what progress is being made in their use and development.
RioAchieve is funded by a $970,000 Next Generation Learning Challenges (NGLC) grant, which was awarded to Rio Salado in October 2012. NGLC is a partnership led by EDUCAUSE, which is primarily funded by the Bill and Melinda Gates Foundation.
RioAchieve is designed to target 5 specific interventions that support student success, retention, and completion--supported through technological innovations that allow them to be delivered in a scalable, sustainable manner. They are as follows:
1. RioCompass, an online interface that gives students a way to monitor their progress toward degree completion, access valuable student success resources and communicate with a dedicated advisor, who can in-turn use the system to get a holistic view of student progress by having access to their course enrollments, degree plan, requests for help records, use of tutoring, placement scores and more.
2. The Intervention Dashboard, Guided Intervention and Response (GIvR) collects data from several areas of the college and then automatically alerts appropriate staff to implement an intervention. The data includes activities such as calls for technology support, grades and instructor notes.
3. RioPACE (Progress and Course Engagement) is a predictive analytics system, which tracks student login frequency, site engagement and progress in a course and compares this data to behaviors of successful students to determine probability of student success.
4. The Guided Evaluation Assessment Response (GEAR) is a technology-based, faculty-developed solution that assists faculty in providing customized, personalized, detailed feedback to students on their assessments.
5. The Student Success Helpdesk is staffed with a Student Success Coordinator, dedicated advisors, and RioAchieve peer mentors—who are current students. The advisors regularly reach out to assigned students to monitor course and degree progress, ensure students are enrolled in the correct courses, assist with future enrollments and answer student questions. Mentors provide study tips, help students navigate student services and provide ongoing encouragement.
A luncheon was hosted with RioAchieve peer mentors and students who shared how their interactions and encouragement from advisors, faculty and staff have helped them persist in working toward their educational goals.
RioAchieve student Shawn Lee from Winslow, AZ, attended the luncheon and spoke highly about RioCompass and peer mentors. "I use RioCompass as my guide," said Lee. "I look at dashboard every day. It motivates me to go further. It provides a lot of info on where I need to be and what classes I need to take."
Lee, who is pursuing a program of study in addiction and substance use disorders, also spoke at length about how positive his educational journey has been. "Rio has opened a lot of doors for me," said Lee. "Working with advisors and peer mentors, they help me achieve my goals and get that quality education."
RioAchieve student Brenda Moore from Scottsdale, AZ, who is finishing up her first semester, also attended the luncheon. "My advisors are awesome," said Moore. "They have really been there for me and they took so much time out for me."
Moore is returning to school after 31 years and studying addiction and substance use disorders. "I am thrilled to be back in school," said Moore. She's also benefiting from Rio Salado's student support services and recommends other students to do the same. "Take advantage of the people at Rio," said Moore. "Go and ask questions. Get the info you need. Applied knowledge is power."
Among the RioAchieve peer mentors was Samantha Hill, who is also a Rio Salado student. "Although I was a little nervous at first, having the opportunity to meet with Mr. Gates and to express my thoughts and opinions was such an honor," said Hill.
Hill, who is studying medical radiography, said she and the students had a chance to talk about their backgrounds and the challenges they have faced. "We also talked about how an online education made it possible for some of us to go to school because driving to class every day is not something we're all able to do."
Another topic was the support system of advisors and peer mentors. "As a peer mentor and student, I'm able to relate directly with students I work with and share my experiences with them," said Hill. "I can help share some of the mistakes I made early on and what I wish I had known first starting out. I believe so many students could benefit from a model like this and by having a peer mentor"
"Student perspectives are crucial in the development of RioAchieve," said Bustamante. "We were truly impressed by Mr. Gates' request to meet with students and were honored to help bring them together."
Rio Salado College is one of the 10 regionally accredited Maricopa Community Colleges and one of the largest online public community college in the nation, serving nearly 59,000 students annually with more than 30,000 online. Founded in 1978, Rio Salado is a pioneer and leader in online learning, offering 600+ online classes, 100+ degree and certificate programs and general education courses. The college also provides support for dual enrollment, military and incarcerated students and serves as one of the largest providers of adult basic education in Arizona.