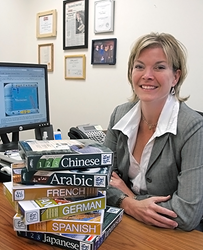 The need to find individuals who can understand those differences is growing because there is an increase in the number of people seeking medical care who need the correct information in Spanish.
Tempe, AZ (PRWEB) March 27, 2014
The phrase "mal de ojo" in Spanish literally means "bad eye." However, when you take cultural expression into consideration, it can also mean an illness caused by "the evil eye" or a curse.
"The difference between the two translations can have important consequences, especially in an emergency room situation," said Angela Felix, Rio Salado College's faculty chair for languages. "The need to find individuals who can understand those differences is growing because there is an increase in the number of people seeking medical care who need the correct information in Spanish."
Providing the correct information is the basis for two online classes offered by Rio Salado College: SPA205 - Spanish for Medical Interpretation I, and SPA206 - Spanish for Medical Interpretation II.
SPA205 introduces Spanish interpretation for medical interpreters and covers a code of ethics, national standards and medical interpreter's responsibilities as well as cultural awareness and legal issues. In SPA206, students learn medical vocabulary relating to human anatomy and physiology.
"We think these courses will be of great interest to a variety of students and medical providers," said Felix. "They're affordable, easily available online and the content has been vetted by local and national medical professionals."
Content from the two online classes received accreditation from the Certification Commission for Healthcare Interpreters (CCHI) in December. The CCHI's accreditation is new. Rio Salado was part of a pilot group and among the first to undergo the process for its Continuing Education Accreditation Program.
The course content was originally developed by the Phoenix Children's Hospital, which partnered with Rio Salado in 2007 to make its curriculum available online for both hospital staff and the public. Classes are geared to students who already have Spanish language skills but need the medical terminology and medical interpretation training.
"People may not think of going to a community college for this level of training, which would normally be offered at a graduate level at a university," said Jennifer Freed, Rio Salado College Interim Vice President of Academic Affairs. "With our flexible online format, we can serve an unlimited number of students and help fill a vital communication need among health care providers across the country."
""This kind of coursework exemplifies our commitment to developing quality educational programs that enhance our students' prospects for gainful employment," said Maricopa Community Colleges Chancellor Rufus Glasper. "Employers come to us for education and training, so they can address local and national problems. These courses are just one more way we're responding to that need."
Students who successfully complete SPA205 and SPA206 through Rio Salado have the opportunity to attend a 40-hour externship through the SouthWest Skill Center at Estrella Mountain Community College. This in-person program provides students with real life interpreting experiences at various hospitals, clinics, and interpreting organizations throughout the Metro Phoenix area.
"There is no real degree for medical interpreters, yet employers are looking for workers with some academic validation," Felix said. "This training is perfect for students who are bilingual but don't know what career path to follow. "The most important thing to know is that students don't have to have a medical background to take these classes. We will teach them the terminology and how to manage interpretive encounters."
Rio Salado College is one of ten Maricopa Community Colleges and the largest online public community college in the nation, serving nearly 70,000 students annually with more than 43,000 online. Founded in 1978, Rio Salado offers degree and certificate programs and general education courses. The college also provides support for dual enrollment, military and incarcerated students. It is the largest provider of adult basic education in Arizona and served more than 9,500 students last year.
###