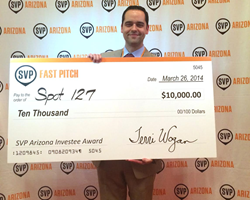 The real value of participating is far greater than the financial award, it is the intensive mentorship and resources that the SVP network provides. --SPOT 127 Executive Director Greg Pereira
Tempe, AZ (PRWEB) April 09, 2014
Rio Salado College's SPOT 127 Executive Director Greg Pereira earned $10,000 in three minutes at Social Venture Partners Fast Pitch 2014. The annual event, hosted by Social Venture Partners Arizona, includes training and mentoring for innovative non-profit administrators and culminates in a high-energy, rapid-fire presentation event in which participants compete for more than $25,000 in grants and prizes.
"Fast Pitch was a completely unique experience," Pereira said. "It was an incredible opportunity to collaborate with exceptionally smart and talented individuals. I received guidance and resources that will prove invaluable as SPOT 127 continues to grow."
Pereira and 19 other non-profit leaders were handpicked by a selection committee to participate in this year's event. Eight finalists moved on to the final competition, which took place March 26 at the Tempe Center for the Arts. Pereira's three-minute presentation won the Investee Award and secured $10,000 a year in funding for up to five years for SPOT 127.
"The award money will be a great asset to our program," Pereira said, "but the real value of participating is far greater than the financial award, it is the intensive mentorship and resources that the SVP network provides."
SPOT 127 is a youth media center in Phoenix hosted by KJZZ 91.5 and Rio Salado College. The center empowers local high school students by teaching state of the art digital media skills and by connecting students to mentoring and resources that will help them succeed in future endeavors like college and career.
"The students are thrilled that SPOT 127 has been recognized for its innovation and sustainability," Pereira said. "They take great pride in the program and are proud to see the community support that SPOT 127 receives as a result of their incredible work."
About SPOT 127
SPOT 127, a collaboration of KJZZ 91.5, Rio Salado College and the Maricopa County Community College District is an innovative youth media center in Phoenix that empowers high school students to develop state-of-the-art skills in digital media, radio and journalism.
About KJZZ 91.5
KJZZ is a listener-supported public radio station licensed to the Maricopa Community College District. It is a community service of Rio Salado College's Division of Public Service, featuring a mix of local, national and international news, jazz and blues — serving more than 306,000 weekly listeners.
About Social Venture Partners Arizona
Social Venture Partners Arizona (SVPAZ) is an entrepreneurial approach to philanthropy. It offers partners an innovative way to give of their time and talents, as well as donate funds to non-profit organizations focusing on children and education. The "partners" who join SVPAZ operate like venture capitalists, providing infrastructure building skills and resources to promising non-profit organizations.