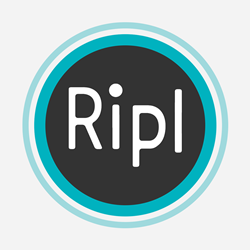 Passing 1 million app installs highlights the rapid adoption of Ripl by small business marketers worldwide.
Bellvue, WA (PRWEB) March 20, 2017
Ripl, Inc., an early leader in small business mobile marketing software, announced today that the company had surpassed one million installs of the Ripl app on iOS and Android mobile devices. The milestone highlights the rapid adoption of Ripl by entrepreneurs and small business marketers worldwide.
Along with the announcement, Ripl stated that its customers have used the app to create millions of unique social media posts to date and that new posts are generating more than 1 million social media "engagements" per week. Engagements are unique instances of a "Like", comment or share/re-tweet of a social media network post. Post engagements are a key driver of social media marketing success because social networks reward high engagement posts with greater visibility.
These announcements bolster Ripl's position as one of the most popular small business marketing tools available for Apple and Android mobile devices. Ripl released one of the first mobile software applications which enable small businesses to create, customize and publish original videos for social media using a single tool.
Ripl's founder and CEO, Paul Ingalls, said about the announcements, "From the moment we first released the Ripl app, our users told us it helped make social media marketing simpler and easier for them." Ingalls added, "Now we hear every day from customers who say they are getting more online engagement and benefit for their business overall."
The company's post tracking data shows that animated videos created with the Ripl app generate higher engagement rates than text-only and still image posts. Ripl's COO, Clay McDaniel, said, "Facebook and others have made changes to their platforms recently that reward and feature video content specifically. We are excited that Ripl is helping so many different types of small businesses get more visibility online."
The company stated that its iOS and Android apps will be undergoing frequent updates throughout the year to release additional mobile marketing features and to integrate with more social networks.
*****
About Ripl:
Ripl, Inc., is a privately-held software technology company based in Bellevue, Washington. The company provides mobile software and premium subscription services to small businesses globally, via its "Ripl"-branded iOS and Android mobile applications. The company is lead by CEO Paul Ingalls. For more information about Ripl, its apps and the Ripl Pro premium subscription service, please visit: http://www.Ripl.com or the Ripl Facebook Page.