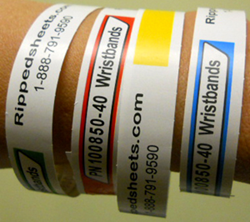 Benton City, WA (PRWEB) September 30, 2014
Rippedsheets.com now offers even more options for the promotion/favor/gift industry. There are over 550 material options to choose from, including wristbands, metallic labels, parking permits, and now banners. Most of the materials can be custom diecut to any shape or size and custom printed in house.
BANNERS
Banners are a new option available from Rippedsheets.com. The banner material is phthalate free and is in compliance with REACH, RoHS, and CONEG standards. The ink used to print on the banners is eco-friendly and UV cured, making it a great choice for those looking to be environment-friendly. They can be used both indoors and outdoors and has excellent print.
WRISTBANDS
The waterproof/tearproof wristbands have been a staple for Rippedsheets.com for many years. Customers include many large theme parks around the country. These come in adult as well as child sizes and can be custom printed. They can be printed with barcodes, QR codes, or sequential numbers. They are great for crowd control, events, camps, schools, promotions, and so much more.
PRODUCT PACKAGING
There are many options available for product packaging, and one of the most popular is the 102600 Matte White Vinyl. This is a waterproof vinyl label with a special chemistry that resists smearing when it is printed. It is RoHS compliant and the facestock does not contain DEHP. The adhesive also meets the requirements for indirect food contact. It was designed for chemical drums but has many other applications for harsh environments including cryogenic label applications.
Another popular product is the 101200 Glossy Polyester. This is a 65# polyester facestock with a permanent adhesive that does not seep onto the surface when run through a printer. It is also archival safe and acid free.
One of the more decorative options is the 101600 Bright Silver Foil. This material creates a beautiful metallic printed label that is RoHS and CONEG compliant. The adhesive is also approved by the FDA for indirect food contact. One of the options for this material is custom metallic tints in practically any color.
Another of the waterproof options is the 102500 Clear Polyester. This has a glossy clear facestock that is solvent, water, and scuff resistant. This adhesive is also FDA approved for indirect food contact, as well as RoHS and CONEG compliant.
These are just some of the many options available for promotional, gift, or favor label applications.The banners are a new addition but are quickly gaining popularity with the local community.
Please visit the website or contact the customer service specialists at 1-888-791-9590 for more information.