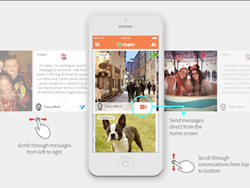 Just Play The Game!
Vancouver, WA (PRWEB) September 24, 2013
Rippln launched beta in April, then in July catapulted over the 1,000,000 user mark and grabbed 1st place in reaching a million users the fastest.
Rippln recently released an app Photo Guessaroo, which has staggering engagement, downloads, reviews, in-app purchases, and viral growth. Photo Guessaroo first launched to the Apple Store, and will be available soon on Google Play. Photo Guessaroo is the first user generated social gaming app.
Rippln says, "The Rippln app brings long-overdue transparency to the social engagement business and has created a new monetary model for 'eyeball acquisition.' With Rippln, people will finally be able to see the impact of their social graph on the market and have the chance to profit from it. This transparency is important because in recent years huge companies and apps have relied on users' social influence to grow their companies by one person telling another person. Until Rippln, that influence had never been disclosed, although it is clearly valuable. Once users are put into the profit equation, there may be no going back."
Rippln Open ID will give users the ability to connect their Rippln accounts with online stores (similar to the commonly known "Connect with Facebook" button), and provides a simple integration with global partners. Rippln Open ID will be valuable to users when other users within their Ripple make usual purchases online. Simply put, if someone's friends on their preferred social network connected to Amazon via Rippln, then they would receive rewards from purchases made within that network, and would have the Rippln Tracking System to monitor activity and rewards.
Rippln App Craze will reward users for sharing hot new apps. According to Craig Smith from Expanded Ramblings, "FaceBook has 1.15 Billion Active Users" (Full list of Social Networks Active User Count Here) and also adds, "I created this listing to illustrate the massive amount of people using social media, apps, and services worldwide."
Rippln Ultimate Game of Life: Over 10,000 people have transformed their lives by playing The Ultimate Game of Life which is the Ultimate Environment for life coaching and positive, lasting change. Brought to you by Rippln.
Other Rippln Features/Products:

Rippln Communicator App: Will provide state of the art communication technology for users
Entertainment and Movies: Will be brought to the Rippln platform and users will be rewarded when their friends rent a movie or independent film
Hottest Holiday Products brought to Rippln: Users can share hot trending holiday products and get rewarded when friends make holiday purchases.
The Rippln Tracking System is feature rich and boasts end user friendliness. Developers will be able to request access to build at a later time. Rippln truly is pioneering the incentivized sharing concept and has proven their model in just a short time by the active engagement, contests, rewards paid out, user feedback, global reach, and powerful partnerships.
Brian Underwood, CEO of Rippln says, "Today, we have the ability to connect more quickly & more easily to people from around the world. Technology has given us the ability to engage & drive behavior; however, the root of all business lies in the power of people --the power of you."
Rippln is an advertiser's dream. The ability to launch a product for clients and monetize their exsisting social network with a push of a button, will provide immediate value to the both parties. Clients will also be able to take full benefits of the Rippln suite, which will assist the business in effectively communicating with their customer base. For music artists, high profile celebrities, and those online that have a huge fan base, this feature will provide an additional revenue stream. Rippln has stated that in the future, a user, if qualified, will have the opportunity to upload products/services to the Rippln marketplace to be distributed and purchased.
Although Rippln could seem quite complex if one is drilling down deep enough. But the user interface is quite simple, and Brian Underwood, CEO of Rippln encourages users to "Just Play The Game!"
Related Rippln News: Rippln at 800,000 Users.
Related Hashtags:
#Rippln #PhotoGuessaroo #UltimateGameOfLife #Mobile #BrianUnderwood #Revolution #NewBreedCEO #ChangeThatMatters #GoogleTrending #TwitterTrending #Connect #Community #ConnectLocal #ConnectGlobal
Related Search Terms:
[Rippln] [Rippln Mobile] [Photo Guessaroo Download] [Brian Underwood] [Mobile ] [Social Commerce] [Incentivized Sharing]