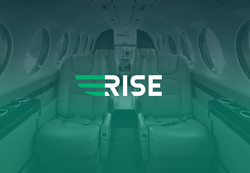 Sam Gilliland, former CEO of Sabre noted, 'The air travel industry is ripe for innovation. Rise meets the needs of frequent flyers who can afford a higher level of service.'
Dallas, Texas (PRWEB) October 10, 2014
Rise, will launch its innovative fly all you want air travel membership service this fall with multiple scheduled weekday flights between Dallas and Houston, weekend flights between Dallas and Austin, and quickly expand service to other cities. Members will appreciate the convenience of fly all you want private flight sharing for a single monthly fee at the introductory price of only $1,650.
The need to travel today is greater than ever. With businesses expanding to new markets and more people working in one city and living in another, the need for convenient and cost effective travel is growing, especially between cities that are relatively close in proximity. The cost of owning a private plane, or even fractional plane ownership, is prohibitive for most frequent flyers, and the hassles of commercial air travel has driven many people to take their car on the trip between Dallas and Houston or between Dallas and Austin.
"We offer a flight experience similar to owning your own private plane but for a much lower cost," said Rise Founder and CEO Nick Kennedy. "Our members simply pull up, grab their favorite beverage, board the plane and they're off. No lines. No surprise fees. No middle seats."
Rise offers three levels of fly all you want membership; new members choose the level that best suits their travel needs based on their frequency of flying and their need for companion passes. Rise founding memberships for early adopters offer additional benefits, and corporate and family memberships are also available. Rise gives valuable time back to its members on each flight. Rise's proprietary flight experience software allows members to book a reservation in seconds, arrive at the private airport terminal just minutes before taking off, and arrange for a car to be waiting for them when they land at their destination. Rise members will fly on Beechcraft King Air 350 aircraft. Each 8-­passenger turbo-­prop plane features club seating and flies between Dallas and Houston in similar time as a commercial flight.
The Rise founders have assembled a leadership team with air travel industry expertise and track records in directing innovative companies.
Sam Gilliland, Rise Advisory Board Member and former CEO of Sabre noted, "The air travel industry is ripe for innovation. Rise meets the needs of frequent flyers who can afford a higher level of service without the much higher investment of private plane ownership."
Wade Eyerly, Rise Executive Chairman and former founding CEO of Surf Air, a similar company in California, added, "Texas is an ideal location for Rise's fly all you want membership service. There are many frequent flyers between Dallas, Houston, Austin, Midland, and other surrounding cities that will appreciate the fly all you want membership experience."
Rise carefully screens and selects established flight operation partners, leveraging their expertise and flight safety records to meet the stringent Rise standards. These operator partners provide Rise and its members an exclusive flight experience that far exceeds expectations and local, state, and federal safety standards.
Rise expects to begin scheduled flights later this fall.