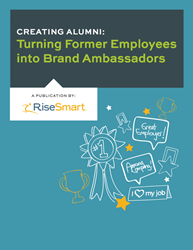 San Jose, CA (PRWEB) April 23, 2014
With lengthy tenures at a single company quickly becoming a thing of the past, companies are increasingly challenged to retain valued employees. Fostering an environment that creates engaged, loyal employees is critical to a company's success. RiseSmart believes that to accomplish this, companies need to view employees and former employees as brand ambassadors.
RiseSmart, the leading provider of enterprise career management solutions, has created a new eBook outlining five things companies can do to foster alumni who will bolster brands and help position organizations for long-term success.
1. Build a culture of empowerment and transparency. CEOs should be encouraged to hold regular all-hands meetings and to be truly transparent with employees regarding the state of the organization and his or her goals for the future. With this transparency at the executive level as the foundation of the organizational mindset, the door is opened for managers to do the same. They can sit down with their own teams, be open and honest about their own goals, and have frank conversations about what they need from each team member in order for those goals to be achieved.
When there is transparency and trust, difficult decisions are easier to announce. When difficult messages are communicated, such as elimination of positions or even a large downsizing event, employees are more likely to understand the business drivers. Even if they don't like the situation, it is less likely that they will foster resentment and anger toward the organization – even when one of the eliminated positions is their own.
2. Facilitate mobility. Alerting employees to opportunities within the organization improves retention and builds employee loyalty. This practice helps employees feel like the organization truly cares about them and their career development.
One way to begin facilitating mobility in a simple, nonthreatening way is to encourage networking among employees. Often, people find themselves in silos and don't communicate with co-workers outside of their teams. Employees should be encouraged to engage with others across team lines and should know when there are opportunities that might give them a chance to learn something new. As a practice, companies should make it simple for employees to access open positions within the organization.
3. Prioritize redeployment before and during a restructuring event. When a large organization restructures, it can eliminate positions in one division at the same time it hires in another. Due to the size of the organization, a division that is hiring may not be aware that, on the other side of the company, there are talented people now available for key positions.
Taking those people whose positions are being eliminated from one part of the company and placing them in the open positions in another area reduces both severance and recruiting costs. Making those money-saving – and potentially career-saving – transitions happen requires that an organization review the talent pool company-wide to make certain that people are in the right jobs. As the need for a restructuring nears, that data can be used to help redeploy top performers into positions where the organization has greater needs.
4. Communicate authentically during the event. Any manager who must inform an employee about the elimination of his or her position should be trained to deliver the message tactfully while also presenting the business case for the decision.
Transitioning employees should be given room to absorb this information, and then their manager should verbally communicate all of the information that they require regarding next steps. A packet of paper should be considered a supplement, not a replacement for communication.
5. Provide assistance in the transition. Management works hard to build loyalty in employees. That is loyalty that needs to be preserved even during reductions in the workforce. Before planning a reduction in the workforce, it is important to make certain that the organization's outplacement solution fits the needs of today's job seeker, no matter their level in the organization.
Employees whose positions are being eliminated should be treated with dignity and respect. Whenever possible, they should be provided assistance with the transition, including a severance package that will help them bridge the gap financially as they look for new roles. They deserve an outplacement program that will be valuable and effective in facilitating a smooth and quick transition.
RiseSmart's eBook is available for download at http://go.risesmart.com/Creatingalumniebook.html.
About RiseSmart
RiseSmart is a leader in enterprise career management solutions that drive employee engagement, improve retention, and burnish employer brands. Through its employee-centric career-management platform, RiseSmart Compass, and its results-oriented outplacement solution, RiseSmart Transition, RiseSmart helps high-performing organizations successfully cultivate passionate, engaged employees and loyal alumni ambassadors. RiseSmart's innovative approach to human capital management has earned the company a wide range of awards and recognition from organizations including Bersin by Deloitte, the Best in Biz, Gartner Inc., the Golden Bridge Awards, LAROCQUE, the Momentum Index, Red Herring, the San Francisco Business Times, SiliconIndia, the Silicon Valley/San Jose Business Journal, the Stevie Awards and TIE. Additionally, RiseSmart's outplacement solution has earned the exclusive endorsement of the American Hospital Association. For more information about how enterprise career management can help you, visit http://www.risesmart.com.