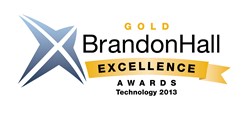 With more than 20 different industry awards for RiseSmart Transition, we've established ourselves as a leader in next-generation outplacement solutions.
San Jose, CA (PRWEB) January 14, 2014
RiseSmart, the leading provider of enterprise career management solutions, won a Brandon Hall Group gold award for the Best Advance in Career Management or Planning Technology.
The award was for RiseSmart Transition, the company's next-generation outplacement services offering, which helps companies protect their brands and lower costs as it helps transitioning employees find their next jobs faster. In the Talent Management category of the awards, RiseSmart was honored alongside innovative HR technology companies Cornerstone OnDemand and JobVite.
Mike Cooke, chief executive officer of Brandon Hall Group, said, "It is our honor to recognize this year's award winners, who exemplify the commitment to innovation and excellence that drives growth and over-the-top business results." Brandon Hall Group Chief Operating Officer Rachel Cooke added, "With the innovation and unique differentiators demonstrated in this year's entries, it is easy to see why these organizations are tremendously successful."
Sanjay Sathe, president and CEO of RiseSmart, said, "With more than 20 different industry awards for RiseSmart Transition, we've established ourselves as a leader in next-generation outplacement solutions."
Award entries were evaluated by a panel of veteran, independent industry experts.
Brandon Hall Group senior analysts and executive leadership based selections upon the following criteria:

Product: What was the product's breakthrough innovation?
Unique differentiators: What makes the product unique and how does it differ from any competing products?
Value proposition: What problem does the product solve and/or what need does this product address?
Measurable results: What are the benefits customers can expect to experience as a result of using this product?
Sathe said, "Recognition from prestigious organizations like The Brandon Hall Group is an absolute honor. It helps demonstrate the need for results-oriented, tech-savvy outplacement models that place primary focus on finding displaced workers with their next jobs fast and burnishing employer brands. These are the results Fortune 500 companies seek today."
For a complete list of the 2013 Brandon Hall Excellence in Technology Awards winners, visit http://brandonhall.com/excellence-technology.php?year=2013.
About RiseSmart
RiseSmart is a leader in enterprise career management solutions that drive employee engagement, improve retention, and burnish employer brands. Through its employee-centric career-management platform, RiseSmart Compass, and its results-oriented outplacement solution, RiseSmart Transition, RiseSmart helps high-performing organizations successfully cultivate passionate, engaged employees and loyal alumni ambassadors. RiseSmart's innovative approach to human capital management has earned the company a wide range of awards and recognition from organizations including Bersin by Deloitte, the Best in Biz, Gartner Inc., the Golden Bridge Awards, LAROCQUE, the Momentum Index, Red Herring, the San Francisco Business Times, SiliconIndia, the Silicon Valley/San Jose Business Journal, the Stevie Awards and TIE. For more information about how enterprise career management can help you, visit http://www.risesmart.com.
About Brandon Hall Group, Inc.
With more than 10,000 clients globally and 20 years of delivering world class research and advisory services, Brandon Hall Group is the most well-known and established research organization in the performance improvement industry. We conduct research that drives performance, and provides strategic insights for executives and practitioners responsible for growth and business results. Brandon Hall Group has an extensive repository of thought leadership, research and expertise in Learning and Development, Talent Management, Leadership Development, Talent Acquisition and Human Resources. At the core of our offerings is a Membership Program that Empowers Excellence Through Content, Collaboration and Community. Our members have access to research that helps them make the right decisions about people, processes, and systems, combined with research-powered advisory services customized to their needs. (http://www.brandonhall.com).