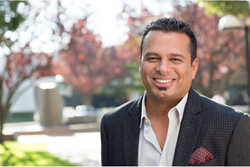 RiseSmart is leading the way for career transition service providers, and I'm honored to join this team of innovative, passionate people.
San Jose, CA (PRWEB) November 06, 2014
RiseSmart, the leading provider of contemporary career transition services, has appointed Hanif Ismail, former Oracle and SAP executive, as its new vice president of products. In this role, Ismail will set and drive the product vision for the company in its pursuit to be the market leader in career transition services.
Ismail joins RiseSmart with over 20 years of executive global leadership experience from leading enterprise software and commercial companies. He brings a strong track record of success in leading organizations to increased innovation resulting in improved revenue growth in highly competitive global markets.
His recent experience as Oracle's senior director for human capital management cloud go-to-market, combined with his past experience as vice president of ERP business development for SAP driving revenue growth through acquisition and high-growth partnerships allows him to contribute broadly to RiseSmart's mission. Throughout his 20 years in the industry, Ismail has excelled at product innovation in various roles with Oracle/PeopleSoft, SAP, and other midsize software and advisory companies.
"We look forward to the contributions Hanif will bring to RiseSmart's product suite using his unique blend of enterprise software and global human resource systems experience," said RiseSmart President and CEO Sanjay Sathe. "In addition to his experience, Hanif's passion will help RiseSmart in our quest to continually develop increasingly innovative products to meet the needs of the transitioning employee."
Ismail has an impressive track record of managing global human resources information technology departments for Fortune 100 companies, including Ford Motor Company.
"I look forward to taking on this new role and using my experience to lead a transformative product plan going into the new year," Ismail said. "RiseSmart is leading the way for career transition service providers, and I'm honored to join this team of innovative, passionate people."
Ismail has published several thought leadership articles on HR and ERP technology, and is a recognized speaker at industry conferences. He holds a computer science degree from the University of Windsor.
About RiseSmart
RiseSmart is a leading provider of contemporary career transition services that strengthen employer brands, improve retention and re-engage talent. RiseSmart's contemporary approach to outplacement combines personalized services from trained professionals with unmatched technology delivered through a convenient, cloud-based platform. High-performing organizations in more than 40 industries rely on RiseSmart's outplacement solution, RiseSmart Transition, to help former employees find new jobs faster. Landing rates exceeding 80 percent and time-to-placement averages more than 60 percent faster than national averages have helped make RiseSmart the nation's fastest-growing outplacement firm. RiseSmart's innovative approach to human capital management has earned the company a wide range of awards and recognition from organizations including Bersin by Deloitte, the Best in Biz, Gartner Inc., the Golden Bridge Awards, LAROCQUE, the Momentum Index, Red Herring, the San Francisco Business Times, SiliconIndia, the Silicon Valley/San Jose Business Journal, the Stevie Awards and TIE. Additionally, RiseSmart's outplacement solution has earned the exclusive endorsement of the American Hospital Association. For more information about how enterprise career management can help you, visit http://www.risesmart.com.