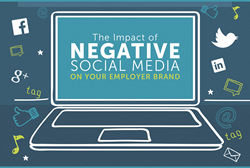 When it comes to recruiting new talent, the number one external source of talent, year after year, continues to be referrals made by employees.
San Jose, CA (PRWEB) August 26, 2014
RiseSmart, the leading provider of career transition services, today released a new infographic to explain how easily negative social media can hurt an employer's brand and how organizations can avoid it. In today's hyper-connected world, a company's image can be ruined in less than 140 characters. Employers who do not create a supportive, transparent workplace for all employees can find themselves on the receiving end of some harmful online reviews.
There are more than 1 billion users on Facebook and 255 million active users on Twitter. That means many U.S. workers who have been laid off could potentially highlight their frustrations with their former employer via online attacks for the world to see.
"When it comes to recruiting new talent, the number one external source of talent, year after year, continues to be referrals made by employees," said Sanjay Sathe, president and CEO of RiseSmart. "Therefore it is imperative that employers understand the importance of fostering a positive work environment that is worth talking about. Giving current and transitioning employees the necessary tools to feel empowered and engaged positively impacts employee referrals and deters negative word of mouth."
Following are three simple ways employers can create positive reviews and avoid the harmful impact of negative social media:
1. Recognize employees for good work. Nearly 80 percent of employees who have been recognized publicly say they love their jobs.
2. Encourage internal mobility. Workers are 87 percent less likely to leave an organization if they are more engaged. Give employees the opportunity to venture outside of their department to develop new skills.
3. Invest in results-driven outplacement services. Show employees they are valued by offering outplacement solutions that are contemporary, personalized, and efficient to help displaced workers land a new job quickly.
Visit http://www.risesmart.com/resources/infographics to view the detailed infographic.
About RiseSmart
RiseSmart is a leading provider of career transition services that strengthen employer brands, improve retention, and re-engage talent. RiseSmart's contemporary approach to outplacement combines personalized services from trained professionals with unmatched technology delivered through a convenient, cloud-based platform. High-performing organizations in more than 40 industries rely on RiseSmart's outplacement solution, RiseSmart Transition, to help former employees find new jobs faster. Landing rates exceeding 80 percent and time-to-placement averages more than 60 percent faster than national averages have helped make RiseSmart the nation's fastest-growing outplacement firm. RiseSmart's innovative approach to human capital management has earned the company a wide range of awards and recognition from organizations including Bersin by Deloitte, the Best in Biz, Gartner Inc., the Golden Bridge Awards, LAROCQUE, the Momentum Index, Red Herring, the San Francisco Business Times, SiliconIndia, the Silicon Valley/San Jose Business Journal, the Stevie Awards and TIE. Additionally, RiseSmart's outplacement solution has earned the exclusive endorsement of the American Hospital Association. For more information about how enterprise career management can help you, visit http://www.risesmart.com.