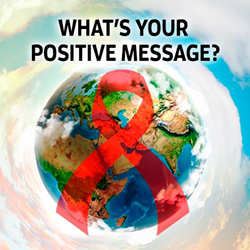 The 'My Positive Message' campaign harnesses the combined power of video and social media to tear down the walls of stigma, fear and shame.
New York, NY (PRWEB) August 10, 2016
RiseUpToHIV, a grassroots awareness project that created the viral, groundbreaking 'No Shame About Being HIV+' campaign in 2013, has launched its 'My Positive Message' video campaign. This campaign is calling for short video submissions with the goal of reaching 1 million combined video views by World AIDS Day on December 1, 2016.
The 'My Positive Message' campaign is calling for 1-minute personal messages of love, hope, strength and wisdom about people's experiences living with or affected by HIV in order to encourage, educate and empower others. Submitted videos will be shared to RiseUpToHIV's combined social media network of 35,000. TheBody.com, a leading resource for HIV/AIDS with 15 million visitors each year, will also share the videos. Check out current submissions at http://www.facebook.com/riseuptohiv/videos.
"The 'My Positive Message' campaign harnesses the combined power of video and social media to tear down the walls of stigma, fear and shame," says Kevin Maloney, HIV and Hepatitis C awareness advocate, and creator of RiseUpToHIV. "We are committed to showing the world we are courageous, strong, vibrant and thriving with HIV."
People can submit their positive message by following these simple instructions:
VIDEO SUBMISSION INSTRUCTIONS

Record on mobile phone, PC or camera
Keep your video 1 minute in length
Record in a bright space, natural light is best
Be honest, encouraging, uplifting and positive in tone
Message your video to the RiseUpToHIV Facebook page http://www.facebook.com/RiseUpToHIV, preferred
Alternatively, email your video to mypositivemsg(at)riseuptohiv(dot)org or text to (614) 800-8660
INTERVIEWS & MEDIA REQUESTS
Kevin Maloney
kevin(at)riseuptohiv(dot)org
(614) 800-8660