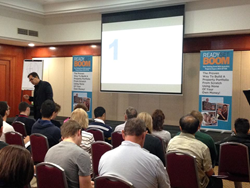 Foreign buyers now accounted for just over 1 in 7 new properties and around 1 in 10 established homes
(PRWEB) May 01, 2014
As we head into the second quarter of 2014, real estate industry predictions are glowing, with upward growth foreseen across the nation over the next two years, according to a recently released NAB Residential Property survey. In a timely move, real estate advocate, Rick Otton, has recently updated his easily accessible Power Property Profits Pack to support Australian property investors on their fast track to wealth through low-risk, high-reward strategies.
The revised pack includes a three-step report set including details on renovation secrets as revealed by one of Mr Otton's successful students, positive cash flow versus capital growth and sniffing out property bargains in their own backyard.
"For results-oriented property investors who are serious about committing to the next level, I'm also organising a 'Ready Set BOOM' national tour in the months ahead. These events, to be held in major capital and regional cities across Australia, will offer attendees an experiential and highly interactive event of my creative real estate strategies," Mr Otton said.
Australian real estate predictions
The real estate strategist and self-made property millionaire said with peak conditions expected to continue over the next few years, there was no better time to learn some of his latest alternative techniques, which he has honed after more than two decades in the industry.
The latest NAB Residential Property survey has found that buying activity is surging, fuelled by foreign investment.
"Foreign buyers now accounted for just over 1 in 7 new properties and around 1 in 10 established homes," the report found.
Queensland is expected to lead the way, with an expected growth in house values of 3.5 per cent followed by New South Wales with 3.3 per cent.
"With consumer confidence up, this is a fantastic time to get into the property market," Mr Otton said.
"But the biggest secret I can share with anyone is that there is never a bad time to get in, as long as you know what you're doing. If you're wondering how to compete with all the other investors out there, or you're having problems accessing bank financing, it doesn't mean you have to abandon your dreams of home ownership.
"With my powerful 'dirt under your fingernails' strategies, I'll show you how to get in there and get results – not in a few years or a few months, but now. Anyone can learn to maximise your profits with little financial risk to themselves."
Mr Otton's free Power Property Profits Pack is available on http://www.creativerealestate.com.au/freepack.
To register early for Mr Otton's Ready Set BOOM tour of major cities being held later this year visit http://www.readysetboom.com.au or phone, in Australia, 1300 888 450.
For over 20 years property millionaire, Rick Otton has built an impressive real estate portfolio using innovative strategies that he has developed – strategies in which transactions are made without the need for traditional bank-type loans. He constantly refines his techniques as he buys and sells properties through his We Buy Houses business which operates in Australia, New Zealand and the UK.
A gifted speaker and educator, Mr Otton conducts regular one-day free seminars across Australia, which build on the concepts he shares in his 2012 book 'How To Buy A House For A Dollar', voted by Money Magazine and Dymocks Book stores as one of the Top 10 Most Popular Finance Titles for 2013.
He regularly records and publishes iTunes podcasts via his channel Creative Real Estate.
His innovative low-risk, high-reward approach to Australian real estate investing has been featured in a variety of television programs and magazines, including Today Tonight, A Current Affair and Australian Property Investor.
To register for one of Mr Otton's free Australian property seminars visit http://www.readysetboom.com.au or phone, in Australia, 1300 888 450.