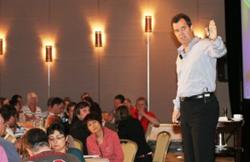 It's important not to get caught up in the emotion of things. Otherwise, you may easily settle on a bad deal and compromise your financial situation.
(PRWEB) April 07, 2014
The First Time Buyer Opinion Barometer revealed that there was a 42 percent increase in first home buyer transactions last February compared to the same month last year, First Rung Now reported on 2 April 2014.
David Brown, commercial director of LSL Property Services, explained that U.K. residents are rushing to buy properties now, so that they won't end up buying when house prices rise even further.
"The way I see it, people are 'panic-buying' houses left and right. This isn't necessarily bad for the economy. In fact, this high demand helps house prices rise up. On the other hand, property investors and home buyers who have yet to purchase a house shouldn't feel like they missed out in case house prices eventually go up, because the opportunity to become a home owner or earn with property is always present," according to Rick Otton, renowned property coach in the U.K.
"It's important not to get caught up in the emotion of things. Otherwise, you may easily settle on a bad deal and compromise your financial situation. Keep in mind that the profits in real estate are not just determined by the price. Even in a rising market, it's still possible to generate profit by using flexible terms," he said.
Mr. Otton then mentioned in a new interview for his limited edition Power property Profits Pack that U.K. residents could buy houses for sale at any time, given the right strategy.
"I always tell my students that it's not about the price. It's how you pay the price that determines affordability. And if buyers and sellers are willing to be flexible with the terms, houses become more affordable. The wide range of solutions offered in seller finance strategies can help anyone enter and exit the property market at any market condition without paying a lot of cash or without taking out a new bank loan," commented Mr. Otton.
For more information on seller finance strategies, visit http://rickotton.co.uk/freepack/ to download Rick Otton's Power Property Profits Pack.
About Rick Otton
Rick Otton is a property investment professional who, over the last 23 years, has introduced innovative real estate strategies to the UK, Australian and the United States. His creative 'low-risk, high-reward' approach to buying and selling houses is exemplified in his own business, We Buy Houses.
This year marks the 10 year anniversary of Mr Otton introducing his strategies to the UK, and the 5 year anniversary of his innovative 'Buy A House For A Pound' process – one that attempted to be emulated by others. His constant process of strategy refinement, and adapting to the ever-changing real estate market, continues to place him at the forefront of property investment education.
In 2012 Rick Otton published his Australian book 'How To Buy A House For A Dollar' which was named in the list of Top 10 Most Popular Finance Titles for 2013. A UK version is on the drawing board for publication in 2014.
Mr Otton freely shares insights into his non-bank-loan strategies that have allowed everyday UK men and women to beat the rental cycle and have their own homes. He coaches others on how to build profitable businesses by facilitating transactions that focus on the needs of potential buyers and motivated sellers.
Access his free downloadable Power Property Profits Pack at RickOtton.co.uk, as are the details of early bird pricing for his next UK 3-day real estate training conference in March 2014. Phone enquiries in the UK are welcome on 0207 000 1027.