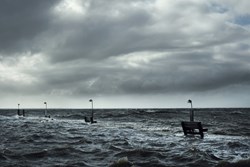 - Museum to hold Media Preview, forum on infrastructure and resilience issuing confronting region-
New York, N.Y. (PRWEB) October 24, 2013
On October 29, 2013, on the one-year anniversary of the day that Superstorm Sandy struck New York City and the surrounding region with devastating consequences, the Museum of the City of New York will open a major photography exhibition featuring images taken by both professionals and everyday New Yorkers who captured astonishing moments – including with smartphones – during the storm and its aftermath. The exhibition, Rising Waters: Photographs of Sandy draws on work submitted by over 900 photographers, many of whom were personally and profoundly impacted by the storm.
The Museum will hold a media preview on Monday, October 28th
When: Monday, October 28th, Noon to 3 PM
Where: Museum of the City of New York, 1220 Fifth Avenue at East 103rd St.
What: Media Preview of Rising Waters. Interviews available with curators and photographers
[Media interested in attending should contact Justyna Zajac at jzajac(at)mcny(dot)org or Jeff Simmons at jeff(at)anatgerstein(dot)com.]
Presented in collaboration with the International Center of Photography, Rising Waters chronicles the cataclysmic force of Sandy through more than 200 color and black-and-white pictures. By incorporating print and digital images from a diverse group of photographers, spanning a wide spectrum of locations, the exhibition is a reflection on Sandy that is unique in power and scope. Shots range from iconic depictions of large-scale destruction, to intimate portraits of Sandy's impact on the lives of everyday people, to images taken during the height of the storm by photographers in perilous positions.
"One year later, Rising Waters presents a visual history of the worst storm ever to hit the New York City region," said Susan Henshaw Jones, the Ronay Menschel Director of the City Museum. "New Yorkers have short memories, but these images will shock and amaze, and this exhibition, I hope, will spark conversations about how to make our city better prepared for future storms."
The City Museum issued an open call for photographs in January, and the timeframe for submissions was extended through the end of July to gather images of longer-term recovery efforts. After poring over some 10,000 images, the final selections were made by a jury comprised of Sean Corcoran, Curator of Prints and Photographs for the Museum of the City of New York; Stella Kramer, Pulitzer-Prize-winning photography editor, curator and creative consultant; and Kristen Lubben, Curator for the International Center of Photography.
Additionally, on October 28th at 6:30 PM, the Museum will hold a forum, "URGENT: New York Perspectives on Resilience." Reservations are required, and can be made at http://www.mcny.org/event/urgent-new-york-perspectives-resilience.
Media wishing to attend should RSVP to Justyna Zajac at jzajac(at)mcny(dot)org or Jeff Simmons at jeff(at)anatgerstein(dot)com.
Alexandros Washburn, author of The Nature of Urban Design: A New York Perspective on Resilience and New York's chief urban designer, will lead a discussion with four design, infrastructure, and environmental policy experts working in the post-Sandy trenches to improve New york City's resilience in the face of future storms: Marc Ricks, former chief of staff to former Deputy Mayor Daniel Doctoroff; architect Thaddeus Pawlowski, who began his career creating computer models of hurricane strikes and was then thrust to the frontlines of reality with the Housing Recovery Office; Dr. Nancy Kete, Managing Director of the Rockefeller Foundation who develops strategies and practices for infusing resilience thinking throughout the Foundation's work; and, Kate Orff, the landscape architect who exhibited her ideas in the Rising Current exhibit at MoMA and is now a finalist in a HUD competition to naturally strengthen coastlines.
The event is co-sponsored by The Architectural League of New York, the American Society of Landscape Architects, and Island Press.
Rising Waters Exhibition Details
Rising Waters is organized into six sections:
Storm portrays the massive force of Sandy as it unfolded, with indelible images depicting torrential rains, winds, and the waves and surge of water that engulfed low lying neighborhoods throughout the region.
Destruction is marked by devastated cityscapes, from flooded neighborhoods and cars piled on top of one another, to splintered buildings and homes that were dragged from their foundations.
Coping tells the story of the storm's human toll with images, both tragic and uplifting, of New Yorkers in the days immediately after Sandy, supporting neighbors, cooking in the street, waiting in line for gas, voting in the 2012 election, guarding against looting, and more.
Home is a heartbreaking series of images of residents from across the region as they sifted through the remains of their damaged and destroyed homes, salvaging personal items.
Relief illuminates acts of compassion and heroism by individual citizens and groups large and small, from nonprofit organizations to the Federal government, as they delivered food, clothing, supplies, and medical assistance during the storm's immediate aftermath.
Not Over showcases workers, volunteers, residents, and business owners as they endeavor to rebuild, a process that continues throughout the region.
A special section highlights Instagram photographs that were posted at a rate of 800 per second during the storm. In fact, TIME magazine hired a group of photographers, including Benjamin Lowy, Ed Kashi, and Stephen Wilkes, to instagram during and after the storm, and their work is presented as well. Wilkes' aerial photographs dramatically depict the scope of Sandy's vicious path. Another section features Alex Fradkin's "Without Power" which are haunting images of Lower Manhattan without lights.
Meanwhile, digital slideshows offer in-depth examinations of the damage and recovery in the particularly hard-hit communities of Lower Manhattan, the Rockaways, and Staten Island.
In a multimedia installation, Rockaway resident and photojournalist Susannah Ray's portraits of four of her neighbors are paired with audio interviews with each subject conducted by WNYC's Jen Poyant. Another deeply personal highlight is a photo diary/scrapbook by photographer Larry Racioppo, a Belle Harbor resident, in which he documents the storm and its aftermath in his home and neighborhood.
The inclusion of work by novice photographers – alongside distinguished and accomplished professionals – using a variety of devices infuses the exhibition with an extemporaneous energy, and it also illustrates the increasing ease with which the ordinary man- or woman-on-the-street can document personal experiences within the context of larger events.
Rising Waters marks the City Museum's latest effort to document the city's history through photography. In 2012, the Museum presented City Scenes: Highlights of New York Street Photography, along with the exhibition London Street Photography. Earlier this year, the South Street Seaport Museum, which at the time was operated by the Museum of the City of New York, unveiled Street Shots/NYC, an exhibition of street photography in the region since 2000. And, in January 2012, the Seaport Museum unveiled Occupy Wall Street: A Photographic Document.
The City Museum partnered with the International Center of Photography in an exhibition and a preview of Rising Waters on Governors Island from August 24 to September 29. Rising Waters: Photographs from Sandy will be on view at the City Museum through February 10, 2014. It is curated by Sean Corcoran, the City Museum's curator of photographs and prints; designed by Pamela Carter; and made possible by James G. Dinan and Elizabeth R. Miller, Ronay and Richard Menschel and the Ferris Foundation.
ABOUT THE MUSEUM OF THE CITY OF NEW YORK
Founded in 1923 as a private, nonprofit corporation, the Museum of the City of New York celebrates and interprets the city, educating the public about its distinctive character, especially its heritage of diversity, opportunity, and perpetual transformation. The Museum connects the past, present, and future of New York City, and serves the people of the city as well as visitors from around the world through exhibitions, school and public programs, publications, and collections.