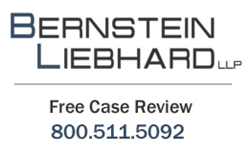 We recognize the importance of launching a website that educates individuals on whether they may be eligible to file a claim.
New York, NY (PRWEB) December 31, 2013
Bernstein Liebhard LLP has published a new Risperdal lawsuit (http://www.risperdallawsuit2015.com/) website for anyone who may have experienced male gynecomastia and other side effects allegedly caused by the anti-psychotic medication, the Firm reports.
Included on the new site will be updates in the fast-developing litigation of Risperdal lawsuits, as well as information regarding the step-by-step process of filing a claim and a list of detailed side effects that have allegedly been associated with the drug marketed by Johnson & Johnson and its subsidiary, Janssen Pharmaceuticals, Inc. According to court documents, several claims alleging gynecomastia (a condition categorized by male breast growth) and other complications have already been filed in a consolidated litigation now underway in the Philadelphia Court of Common Pleas in Pennsylvania (In Re: Risperdal Litigation, Case Number 100300296).
"As our Firm continues to see more Risperdal lawsuit filings in the U.S., we recognize the importance of launching a website that educates individuals on whether they may be eligible to file a claim," says Bernstein Liebhard LLP, a nationwide law firm representing victims of defective medical devices and drugs including Risperdal. The Firm is also offering free and confidential case evaluations to potential Risperdal lawsuit claimants.
Risperdal Lawsuits
Approved in the U.S. to treat schizophrenia and bipolar disorder in adults and adolescents ages 10-17, Risperdal has been the subject of mounting controversy in recent years. In addition to its approved uses by the U.S. Food and Drug Administration (FDA), which also includes the treatment of symptoms associated with autistic disorder in children between 5 and 16 years old, research shows that the medication has been increasingly prescribed off-label to treat individuals with ADHD, as well as for other uses not approved by the federal agency.*
On November 4th, Johnson & Johnson agreed to pay $2.5 billion to the U.S. Department of Justice in federal criminal and civil penalties related to its marketing of Risperdal and certain other drugs. According to details of the health care settlement agreement, which court records show to be one of the largest in history, the company was accused of promoting the medication to children long before it was approved for pediatric uses by the FDA in 2006, as well as to elderly patients with dementia. The U.S. government also charged Johnson & Johnson with concealing vital side effect information associated with its product, including the risk for Risperdal male breast development, a condition referred to as gynecomastia (U.S. District Court, Eastern District of Pennsylvania, 04-cv-1529).
Lawsuits alleging this complication and others are continuing to mount in a consolidated litigation established in the Philadelphia Court of Common Pleas. Court documents indicate that 275 cases, many of which including Risperdal gynecomastia claims, have been filed in the Pennsylvania state court proceeding on behalf of individuals who claim to have sustained injuries stemming from the medication. Plaintiffs allege that the drug was improperly promoted by Johnson & Johnson and Janssen for off-label uses not approved by the FDA.
If you or a man you love experienced breast growth or another complication after taking Risperdal, the time is now to learn if you are eligible to file a lawsuit seeking compensation for out-of-pocket medical expenses, lost wages and other damages. Learn more about the connection between Risperdal and gynecomastia, as well as other complications when you visit Bernstein Liebhard LLP's new website. You may also call the Firm directly for a free and confidential case review at 800-511-5092.
*health.usnews.com/health-news/news/articles/2012/08/07/more-kids-taking-antipsychotics-for-adhd-study, U.S. News & World Report, August 7, 2012
About Bernstein Liebhard LLP
Bernstein Liebhard LLP is a New York-based law firm exclusively representing injured persons in complex individual and class action lawsuits nationwide since 1993, including those who have been harmed by dangerous drugs, defective medical devices and consumer products. The firm has been named by The National Law Journal to the "Plaintiffs' Hot List," recognizing the top plaintiffs' firms in the country, for the past 11 consecutive years.
Bernstein Liebhard LLP
10 East 40th Street
New York, New York 10016
800-511-5092
ATTORNEY ADVERTISING. © 2013 Bernstein Liebhard LLP. The law firm responsible for this advertisement is Bernstein Liebhard LLP, 10 East 40th Street, New York, New York 10016, (212) 779-1414. Prior results do not guarantee or predict a similar outcome with respect to any future matter.
Contact Information:
Felecia L. Stern, Esq.
Bernstein Liebhard LLP
info (at) consumerinjurylawyers (dot) com
http://www.risperdallawsuit2015.com/
https://plus.google.com/115936073311125306742?rel=author