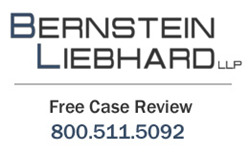 Unfortunately, the current regulations make it impossible for individuals treated with generic forms of Risperdal to obtain compensation from generic drug manufacturers.
New York, New York (PRWEB) March 13, 2014
In light of the mounting litigation involving Risperdal and gynecomastia (http://www.risperdallawsuitcenter.com/risperdal-gynecomastia/ ), Bernstein Liebhard LLP notes that the U.S. Food & Drug Administration (FDA) is considering new regulations which would allow generic manufacturers to make changes to their drugs' labels when they become aware of new information about potential risks associated with their products. At the present time, generic medications are required to carry the same label warnings as their name-brand counterparts, and generic drug makers are barred from altering labels on their own. According to a posting on the FDA's website today is the last day that the public may comment on the proposed rule change before the agency makes its final decision.
"Our Firm is currently investigating Risperdal lawsuits on behalf of men and boys who allegedly developed gynecomastia, or male breast growth, due to this medication. We have also heard from many others who claim to have suffered the same condition, but who were treated with generic versions of the medication. Unfortunately, the current regulations make it impossible for individuals treated with generic forms of Risperdal to obtain compensation from generic drug manufacturers," says Bernstein Liebhard LLP, a nationwide law firm representing the victims of defective drugs and medical devices. The Firm is currently offering free Risperdal lawsuit reviews to men and boys who allegedly experienced male breast growth due to their use of the atypical antipsychotic medication.
Generic Drug Preemption
Even though generic drugs pose the same risks as their brand name counterparts, consumers have been barred from bringing state law failure to warn claims against generic drug manufacturers since 2011. That year, the U.S. Supreme Court determined that such lawsuits were barred because generic drug makers had no control over their products' labels. (Pliva v. Mensing, 131 S. Ct. 2567 (2011)) Just last week, the High Court reaffirmed that ruling by a 5-4 margin. (Mutual Pharmaceutical Co. v. Bartlett, 12-142.)
According to a report published by the New York Times in March 2012, nearly 80 percent of prescriptions in the U.S. are filled by a generic drug. In the year following the Mensing ruling, more than 40 judges dismissed product liability lawsuits that were pending against generic drug makers.*
Court documents filed in the Philadelphia Court of Common Pleas in Pennsylvania indicate that more than 200 Risperdal lawsuits have been filed on behalf of individuals who were allegedly injured by the brand-name version drug, including dozens that allege a link between Risperdal and male breast growth. Unfortunately, because of the Supreme Court's Mensing decision, patients who allegedly sustained the very same injuries due to generic versions of Risperdal are barred from filing similar claims in this proceeding. (Risperdal Litigation, case number 100300296)
Individuals who allegedly developed gynecomastia while being treated with Risperdal may be entitled to compensation for medical bills, lost wages, pain and suffering and more. Find out more about filing a Risperdal lawsuit by visiting Bernstein Liebhard LLP's website. Free case reviews may also be obtained by calling the Firm directly at 800-511-5092.
*nytimes.com/2012/03/21/business/drug-lawsuits-hinge-on-the-detail-of-a-label.html?pagewanted=all&_r=0, New York Times, March 20, 2012
About Bernstein Liebhard LLP
Bernstein Liebhard LLP is a New York-based law firm exclusively representing injured persons in complex individual and class action lawsuits nationwide since 1993, including those who have been harmed by dangerous drugs, defective medical devices and consumer products. The firm has been named by The National Law Journal to the Plaintiffs' Hot List, recognizing the top plaintiffs firms in the country, for the past 12 consecutive years. Bernstein Liebhard LLP is the only firm in the country to be named to this prestigious list every year since the list was first published in 2003.
Bernstein Liebhard LLP
10 East 40th Street
New York, New York 10016
800-511-5092
ATTORNEY ADVERTISING. © 2014 Bernstein Liebhard LLP. The law firm responsible for this advertisement is Bernstein Liebhard LLP, 10 East 40th Street, New York, New York 10016, 800-511-5092. Prior results do not guarantee or predict a similar outcome with respect to any future matter.
Contact Information:
Felecia L. Stern, Esq.
Bernstein Liebhard LLP
info (at) consumerinjurylawyers (dot) com
http://www.risperdallawsuitcenter.com/
https://plus.google.com/115936073311125306742?rel=author