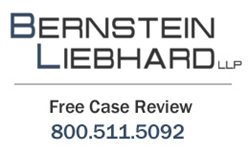 Hundreds of Risperdal lawsuits have been filed in U.S. courts on behalf of children who allegedly suffered gynecomastia (male breast growth) and other serious side effects due to exposure to risperidone.
New York, New York (PRWEB) June 27, 2014
As Risperdal lawsuits (http://www.risperdallawsuitcenter.com/ ) continue to move forward in U.S. courts, Bernstein Liebhard LLP notes that a newly released study has linked Risperdal to low bone mass in children. The study, which was presented earlier this month at the American Society of Clinical Psychopharmacology (ASCP) 2014 Annual Meeting, found that long-term exposure to risperidone, the active ingredient in Risperdal, was associated with failure to accrue bone mass. The study looked at 94 boys with a mean age of 11.8 years, the majority of whom had been exposed to risperidone for an average of 2.5 years. A year-and-half later, 24 were no longer using the medication. Compared with stopping risperidone, continuing treatment was associated with a significant decline in bone mineral density score at the lumbar spine, as well as a significant failure to increase trabecular volumetric bone mineral density at the radius.*
"Hundreds of Risperdal lawsuits have been filed in U.S. courts on behalf of children who allegedly suffered gynecomastia (male breast growth) and other serious side effects due to exposure to risperidone. This study just underscores the fact that the use of Risperdal in children can have serious health consequences," says Bernstein Liebhard LLP, a nationwide law firm representing the victims of defective drugs and medical devices. The Firm is currently offering free legal consultations to men and boys who allegedly developed gynecomastia due to their use of Risperdal.
Risperdal Lawsuits
Risperdal is an atypical antipsychotic drug that is approved by the U.S. Food & Drug Administration (FDA) to treat adult and adolescent schizophrenia, as well as bipolar disorder in adults and children ages 10-to-17. Risperdal is also approved to treat irritability in children (5-to-16 years of age) with autistic disorder.** Research also suggests that off- label use of Risperdal to treat ADHD in children is also on the rise.***
Court documents indicate that a growing number of Risperdal lawsuits have been filed in a consolidated litigation underway in Pennsylvania's Court of Common Pleas on behalf of individuals who allegedly suffered serious side effects as a result of the medication. A significant number of these lawsuits allege a connection between Risperdal and gynecomastia. Plaintiffs further claim that Johnson & Johnson concealed Risperdal side effects, and improperly marketed the drug for off-label use in children long before any pediatric indications were approved by the FDA. (In Re: Risperdal Litigation, Case Number 100300296)
On November 4th, the U.S. Department of Justice announced it had reached an agreement with Johnson & Johnson to resolve criminal and civil charges regarding the marketing of Risperdal and other drugs. Among other things, federal prosecutors had alleged that the company improperly marketed Risperdal for pediatric uses. According to court documents filed in the case, the Justice Department had also charged that the company concealed side effects associated with the medication, including an association with elevated levels of prolactin, a hormone associated with breast development and lactation. Under the settlement, Johnson & Johnson will pay a total of $2.5 billion in criminal and civil penalties to resolve the charges levied by the federal government. (U.S. District Court, Eastern District of Pennsylvania, 04-cv-1529)
Risperdal patients who developed gynecomastia that may be associated with their use of the antipsychotic medication could be entitled to compensation for their injury-related damages. To learn more about the possible association between Risperdal and male breast growth, please visit Bernstein Liebhard LLPs website. For a free case review, please call 800-511-5092.
*ascpmeeting.org/wp-content/uploads/2014/05/Abstract-Book-FINAL.pdf, ASCP Meeting Abstract Book, June 2014
**accessdata.fda.gov/drugsatfda_docs/label/2009/020272s056,020588s044,021346s033,021444s03lbl.pdf, Risperdal Prescribing Information, FDA, 2009
***health.usnews.com/health-news/news/articles/2012/08/07/more-kids-taking-antipsychotics-for-adhd-study, U.S. News & World Report, August 7, 2012
About Bernstein Liebhard LLP
Bernstein Liebhard LLP is a New York-based law firm exclusively representing injured persons in complex individual and class action lawsuits nationwide since 1993. As a national law firm, Bernstein Liebhard LLP possesses all of the legal and financial resources required to successfully challenge billion dollar pharmaceutical and medical device companies. As a result, our attorneys and legal staff have been able to recover more than $3 billion on behalf of our clients. The Firm has been named by The National Law Journal to the Plaintiffs' Hot List, recognizing the top plaintiffs firms in the country, for the past 12 consecutive years. Bernstein Liebhard LLP is the only firm in the country to be named to this prestigious list every year since it was first published in 2003.
Bernstein Liebhard LLP represents the victims of defective drugs and medical devices on a contingency-fee basis, and our clients are never expected to pay attorneys fees unless their case results in a successful recovery on their behalf. New York State's contingency fee cap rules generally limit those fees to 33 1/3% of the total recovery. As a result, the Firm's fees can be significantly lower than those assessed by attorneys in other states, which depending on the law may amount to as much as 40% or more of a plaintiff's recovery.
Bernstein Liebhard LLP
10 East 40th Street
New York, New York 10016
800-511-5092
ATTORNEY ADVERTISING. © 2014 Bernstein Liebhard LLP. The law firm responsible for this advertisement is Bernstein Liebhard LLP, 10 East 40th Street, New York, New York 10016, 800-511-5092. Prior results do not guarantee or predict a similar outcome with respect to any future matter.
Contact Information:
Felecia L. Stern, Esq.
info (at) consumerinjurylawyers (dot) com
http://www.risperdallawsuitcenter.com/
https://plus.google.com/115936073311125306742?rel=author