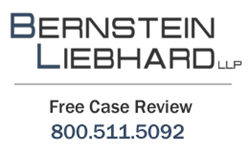 Our Firm is representing a number of plaintiffs in Risperdal lawsuits that claim the drug caused gynecomastia. This report just adds to a growing body of evidence that support the allegations put forth in these and other claims.
New York, New York (PRWEB) August 08, 2014
As Risperdal lawsuits (http://www.lawreward.com/risperdal/) mount in U.S. courts, Bernstein Liebhard LLP notes that yet another group of researchers has found data to support a link between exposure to risperidone, the active ingredient in the atypical antipsychotic drug, and the development of gynecomastia (male breast growth) in men. Writing in the August 6th issue of the Journal of Clinical Psychopharmacology, scientists from University of British Columbia reported that they had looked at health records for over 82,000 men aged 40 to 85 years between 2001 and 2011, and found that 27 of 174 of the men exposed to risperidone developed gynecomastia within 60 days. They concluded that men using this drug were more likely to develop the condition compared to those using other atypical antipsychotics, as well as non-users of the medications. They also noted that their findings were consistent with the number of reported cases of gynecomastia involving atypical antipsychotic drugs that have been reported to U.S. Food & Drug Administration, which also indicate that reports involving risperidone are the most frequent.*
"Our Firm is representing a number of plaintiffs in Risperdal lawsuits that claim the drug caused gynecomastia. This report just adds to a growing body of evidence that support the allegations put forth in these and other claims," says Bernstein Liebhard LLP, a nationwide law firm representing the victims of defective drugs and medical devices. The Firm is currently offering free legal consultations to men and boys who allegedly developed gynecomastia due to their use of Risperdal.
Risperdal Gynecomastia Allegations
Risperdal is an atypical antipsychotic drug used to treat adult and adolescent schizophrenia, as well as bipolar disorder in adults and children ages 10-to-17. Risperdal is also approved to treat irritability in children (5-to-16 years of age) with autistic disorder. Research also indicates that off- label use of Risperdal to treat ADHD is also on the rise.**
The report published this month by the University of British Columbia researchers is just the latest to implicate Risperdal in the development of gynecomastia. According to research published in 2006 in the same journal, Risperdal may cause the body to produce excessive amounts of a hormone called prolactin, which is known to stimulate breast growth and milk production in women. Excessive levels of prolactin were associated with gynecomastia in boys and the development of lactation in girls, according to the authors of that study. ***
Court documents indicate that hundreds of plaintiffs are currently pursuing Risperdal lawsuits for gynecomastia allegedly caused by the medication. The majority of these claims are pending in a mass tort litigation now underway in Pennsylvania's Philadelphia Court of Common Pleas, where Bernstein Liebhard LLP is actively filing cases. Among other things, the complaints accuse Johnson & Johnson and Janssen Pharmaceuticals of concealing the association between Risperdal and male breast growth, and of improperly marketing the drug for off-label use in children. (In Re: Risperdal Litigation, Case Number 100300296).
On November 4th, the U.S. Department of Justice announced that Johnson & Johnson and Janssen had agreed to pay $2.2 billion to resolve criminal and civil charges stemming from their marketing of Risperdal and other drugs. Among other things, federal prosecutors had alleged that the companies marketed Risperdal for pediatric uses long before it was approved for such indications in 2006. According to court documents filed in the case, the Justice Department had also charged that the company concealed side effects associated with the medication, including an association between Risperdal and elevated levels of prolactin. (U.S. District Court, Eastern District of Pennsylvania, 04-cv-1529)
Individuals who were treated with Risperdal are urged to contact Bernstein Liebhard LLP for a free legal consultation if they developed gynecomastia or male breast growth while taking this drug. To learn more about filing a Risperdal lawsuit, please contact the Firm by calling 800-511-5092.
*journals.lww.com/psychopharmacology/Citation/publishahead/Risperidone_Use_and_Risk_for_Gynecomastia_in_Men_.99394.aspx, Journal of Clinical Psycopharmacology
**health.usnews.com/health-news/news/articles/2012/08/07/more-kids-taking-antipsychotics-for-adhd-study, U.S. News & World Report, August 7, 2012
***journals.lww.com/psychopharmacology/Abstract/2006/04000/Risperidone_induced_Symptomatic.10.aspx, Journal of Clinical Psychopharmacology, April 2006
About Bernstein Liebhard LLP
Bernstein Liebhard LLP is a New York-based law firm exclusively representing injured persons in complex individual and class action lawsuits nationwide since 1993. As a national law firm, Bernstein Liebhard LLP possesses all of the legal and financial resources required to successfully challenge billion dollar pharmaceutical and medical device companies. As a result, our attorneys and legal staff have been able to recover more than $3 billion on behalf of our clients. The Firm has been named by The National Law Journal to the Plaintiffs' Hot List, recognizing the top plaintiffs firms in the country, for the past 12 consecutive years. Bernstein Liebhard LLP is the only firm in the country to be named to this prestigious list every year since it was first published in 2003.
Bernstein Liebhard LLP
10 East 40th Street
New York, New York 10016
800-511-5092
ATTORNEY ADVERTISING. © 2014 Bernstein Liebhard LLP. The law firm responsible for this advertisement is Bernstein Liebhard LLP, 10 East 40th Street, New York, New York 10016, 800-511-5092. Prior results do not guarantee or predict a similar outcome with respect to any future matter.
Contact Information:
Felecia L. Stern, Esq.
info (at) consumerinjurylawyers (dot) com
http://www.lawreward.com/
https://plus.google.com/115936073311125306742?rel=author