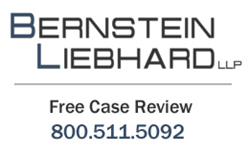 Our Firm is monitoring this trial very closely, as we are representing numerous Risperdal gynecomastia plaintiffs in this proceeding.
New York, New York (PRWEB) February 02, 2015
The first bellwether trial of a Risperdal gynecomastia (http://www.risperdallawsuit2014.com/) lawsuit continues to move forward in a mass tort litigation underway in Pennsylvania's Philadelphia Court of Common Pleas, Bernstein Liebhard LLP reports. According to court documents from January 30th, former U.S. Food & Drug Administration (FDA) Commissioner David Kessler testified for a third day, as attorneys for the defense began their cross examination. During questioning, Dr. Kessler maintained that Johnson & Johnson officials misled the FDA in 2005 when they told the agency that there was no association between Risperdal and the development of female-like breasts in teenage boys. He also asserted that the FDA correctly prohibited the drug makers from including pediatric dosage information on the Risperdal label prior to 2006, when the medication was approved for use in children. Doing so would have opened the door to pediatric uses before required studies had been completed, he said. (Case No. 1204-01997)
Court records indicate that this is the first Risperdal trial in the Pennsylvania proceeding to involve gynecomastia allegations. The case was brought on behalf of a 20-year-old autistic man who allegedly experienced excessive breast growth due to his use of Risperdal as an 8-year-old child. According to his lawsuit, he was prescribed the drug off-label in 2002, several years before the FDA approved Risperdal as a treatment for autism and a number of mental disorders in children.
"Our Firm is monitoring this trial very closely, as we are representing numerous Risperdal gynecomastia plaintiffs in this proceeding. Because this is a bellwether trial, it may provide insight into jury rulings in other Risperdal cases that involve male breast growth allegations," says Bernstein Liebhard LLP, a nationwide law firm representing the victims of defective drugs and medical devices. The Firm is currently offering free legal consultations to men and boys who allegedly developed gynecomastia due to their use of Risperdal.
Risperdal Litigation
Court documents indicate that more than 1,250 cases have been filed in the Pennsylvania litigation on behalf of alleged victims of gynecomastia and other Risperdal side effects. Like the lawsuit currently at trial, these claims also accuse Johnson & Johnson and Janssen of failing to provide patients and doctors with adequate warnings about the drug's risks, and of improperly promoting Risperdal for off-label use. Risperdal gynecomastia plaintiffs also claim that the companies withheld information about the medication's impact on prolactin levels, a hormone associated with female breast development. In men and boys, high levels of prolactin have been linked to excess breast growth. (In Re: Risperdal Litigation, Case Number 100300296)
The product liability litigation involving Risperdal is not the only legal action Johnson & Johnson and Janssen have faced over the medication. In November 2013, the companies agreed to pay $2.2 billion to resolve criminal and civil charges regarding the marketing of several medications, including Risperdal. Among other things, the U.S. Department of Justice had accused the drug makers of improperly promoting Risperdal for off-label uses, including a number of pediatric indications prior to their 2006 FDA approval. (U.S. District Court, Eastern District of Pennsylvania, 04-cv-1529)
Risperdal patients who allegedly developed gynecomastia due to treatment with the antipsychotic medication may be able to recover compensation for medical bills, lost wages, pain and suffering and other damages. To learn more about filing a Risperdal lawsuit, please visit Bernstein Liebhard LLP's website. For a free case review, please call 800-511-5092.
About Bernstein Liebhard LLP
Bernstein Liebhard LLP is a New York-based law firm exclusively representing injured persons in complex individual and class action lawsuits nationwide since 1993. As a national law firm, Bernstein Liebhard LLP possesses all of the legal and financial resources required to successfully challenge billion dollar pharmaceutical and medical device companies. As a result, our attorneys and legal staff have been able to recover more than $3 billion on behalf of our clients. The Firm has been named by The National Law Journal to the Plaintiffs' Hot List, recognizing the top plaintiffs firms in the country, for the past 12 consecutive years. Bernstein Liebhard LLP is the only firm in the country to be named to this prestigious list every year since it was first published in 2003.
Bernstein Liebhard LLP
10 East 40th Street
New York, New York 10016
800-511-5092
ATTORNEY ADVERTISING. © 2015 Bernstein Liebhard LLP. The law firm responsible for this advertisement is Bernstein Liebhard LLP, 10 East 40th Street, New York, New York 10016, 800-511-5092. Prior results do not guarantee or predict a similar outcome with respect to any future matter.
Contact Information:
Felecia L. Stern, Esq.
info (at) consumerinjurylawyers (dot) com
http://www.risperdallawsuit2014.com/
https://plus.google.com/115936073311125306742?rel=author