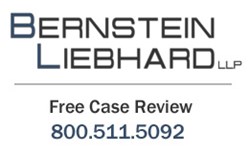 It should be noted that many of the Risperdal lawsuits now pending in courts around the country were filed on behalf of children who were allegedly harmed by this medication.
New York, New York (PRWEB) February 07, 2014
With Risperdal lawsuits (http://www.risperdallawsuitcenter.com/ ) continuing to move forward in courts around the country, Bernstein Liebhard LLP notes the publication of yet another report detailing a rise in pediatric use of Risperdal and other antipsychotic drugs. The study, which drew data from a German insurance database, found that the number of children and adolescents in that country who were taking such medications grew sharply between 2005 and 2011, with prescriptions doubling in a single year. Atypical antipsychotics were among the medications that saw a significant increase, with Risperdal prescriptions leading the way. The study appears in the current issue of Deutsches Ärzteblatt International.*
"This is not the first report to see an increase in the use of drugs like Risperdal among pediatric patients. It should be noted that many of the Risperdal lawsuits now pending in courts around the country were filed on behalf of children who were allegedly harmed by this medication," says Bernstein Liebhard LLP, a nationwide law firm representing the victims of defective drugs and medical devices. The Firm is currently offering free Risperdal lawsuit reviews to men and boys who allegedly experienced male breast growth, or gynecomastia, due to their use of Risperdal.
Risperdal Lawsuit
The findings of the German study echo those detailed by a Consumer Reports investigation which found that the use of antipsychotic drugs among U.S. children had tripled over the past 15 years. The report also found that many children taking Risperdal and similar drugs were prescribed the medications off-label, rather than for approved indications like bipolar disorder and schizophrenia. Consumer Reports also noted that as pediatric use of antipsychotics has grown, so has evidence indicating that these drugs could carry more risks than previously thought.**
In November 2013, Johnson & Johnson and its Janssen Pharmaceuticals unit agreed to pay $2.2 million to resolve criminal and civil charges involving Risperdal and other drug in a case prosecuted by the U.S. Department of Justice. Among other things, the government had charged the companies with improperly marketing Risperdal for use in children, and further alleged that they had concealed the link between Risperdal and gynecomastia, as well as other side effects. (U.S. District Court, Eastern District of Pennsylvania, 04-cv-1529)
Court documents from the Philadelphia Court of Common Pleas in Pennsylvania indicate that more than 200 Risperdal lawsuits have been filed on behalf of individuals who were allegedly injured by the drug. These claims include dozens that allege a link between Risperdal and male breast growth. The lawsuits claim, among other things, that the makers of Risperdal concealed its risks, and improperly marketed the drug for off-label use in pediatric patients. (Risperdal Litigation, case number 100300296)
Alleged victims of Risperdal and gynecomastia may be entitled to compensation for medical bills, lost wages, pain and suffering and more. Find out more about filing a Risperdal lawsuit by visiting Bernstein Liebhard LLP's website. Free case reviews may also be obtained by calling the Firm directly at 800-511-5092.
*sciencecodex.com/antipsychotic_prescription_for_children_and_adolescents-127067, Science Codex, January 2014
**consumerreports.org/cro/2013/12/are-too-many-kids-taking-antipsychotic-drugs/index.htm, Consumer Reports, December 2013
About Bernstein Liebhard LLP
Bernstein Liebhard LLP is a New York-based law firm exclusively representing injured persons in complex individual and class action lawsuits nationwide since 1993, including those who have been harmed by dangerous drugs, defective medical devices and consumer products. The firm has been named by The National Law Journal to the "Plaintiffs' Hot List," recognizing the top plaintiffs' firms in the country, for the past 11 consecutive years.
Bernstein Liebhard LLP
10 East 40th Street
New York, New York 10016
800-511-5092
ATTORNEY ADVERTISING. © 2014 Bernstein Liebhard LLP. The law firm responsible for this advertisement is Bernstein Liebhard LLP, 10 East 40th Street, New York, New York 10016, 800-511-5092. Prior results do not guarantee or predict a similar outcome with respect to any future matter.
Contact Information:
Felecia L. Stern, Esq.
Bernstein Liebhard LLP
info (at) consumerinjurylawyers (dot) com
http://www.risperdallawsuitcenter.com/
https://plus.google.com/115936073311125306742?rel=author