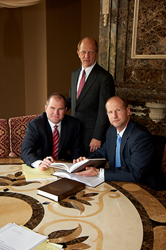 The $5.9 million is only one aspect of this settlement.
St. Louis, Missouri (PRWEB) March 18, 2014
A Risperdal lawsuit filed against Johnson & Johnson subsidiaries Janssen Ortho LLC and Janssen Pharmaceuticals, Inc. by the State of Montana's Attorney General in 2008 was settled last month (State of Montana v. Janssen Ortho, LLC and Janssen Pharmaceuticals, Inc., Montana First Judicial District Court, CDV-2008-164). Though Janssen admitted no wrongdoing, the $5.9 million settlement is, "further indication that Johnson & Johnson doesn't want this matter faced in court,"male breast development lawyer handling Risperdal lawsuits Jim Onder says. Montana's lawsuit alleged that Janssen concealed known dangers associated with Risperdal from consumers, and illegally promoted the drug for uses other than those for which it has been approved.
Risperdal is an atypical antipsychotic drug that is approved for use in adults suffering from schizophrenia and bipolar disorder. The Montana Risperdal lawsuit alleged that the company has promoted the drug as a viable treatment for a range of mental and emotional disorders in adults and children including anxiety, depression, and dementia. Off-label marketing, or the marketing of a drug for uses other than which it has been approved, is a violation of federal law.
The claims made in this Risperdal lawsuit echo those made in a federal Risperdal lawsuit Janssen settled with the Department of Justice for $2.2 billion in November of 2013 (United States of America v. Johnson & Johnson, U.S. District Court, District of Massachusetts, Case 1:07-cv-10288-RGS). In that Risperdal lawsuit settlement, the company admitted to having promoted the drug for the treatment of behaviors associated with dementia. Risperdal has not been approved for this use; the risk of stroke and death outweighs the potential benefits of the drug in this application.
Speaking of the February 2014 Risperdal lawsuit settlement with the State of Montana, Attorney General Fox said in a press release, "This settlement is not only significant in terms of the amount of money Montana will receive, but also in that it protects our citizens from being prescribed Risperdal based on the types of false statements Janssen previously made to our healthcare providers…. [O]n the behalf of Montana's consumers and taxpayers, a pharmaceutical giant has been held accountable for deceptive marketing practices, and a significant recovery of the State's public resources has been realized." (doj.mt.gov/2014/03/attorney-general-fox-announces-5-9-million-pharmaceutical-settlement-launches-new-rx-drug-abuse-prevention-program/)
Jim Onder, who handles national Risperdal gynecomastia lawsuits, commented on the outcome of Montana's Risperdal lawsuit: "The $5.9 million is only one aspect of this settlement. Janssen has agreed to represent the risks connected with Risperdal more accurately when promoting the drug in the state of Montana. That means warning consumers of the health problems that can come from taking Risperdal. On the tails of the 2013 U.S. Department of Justice Risperdal lawsuit settlement, this outcome sends a message to individuals who may have been harmed by Risperdal: Your voice can make a difference." Each individual product safety lawsuit contributes to the demand for corporate accountability. In this way, individual consumers have a voice against multi-national pharmaceutical corporations.
The Onder Law Firm is currently accepting inquiries from boys and men, and the family members of boys and men, who have developed male breasts while taking Risperdal. Risperdal gynecomastia lawyers are investigating these inquiries for possible Risperdal boys breast lawsuits against Janssen, a subsidiary of Johnson & Johnson. The Onder Law Firm is known for winning major settlements for clients in the areas of drug and medical device recalls, as well as product and family safety. The firm is nationally-renowned for its work on window blind strangulation, and has notable expertise in fighting on behalf of individuals against powerful billion-dollar corporations. Boys and men who have developed male breasts while taking Risperdal, and the families of individuals who meet this description, are eligible to receive a free Risperdal lawsuit case review. To contact attorneys handling Risperdal boys breast growth lawsuits at The Onder Law Firm, please visit the firm's Risperdal Gynecomastia Lawsuit Center website.
The Onder Law Firm also welcomes Risperdal male breast growth lawsuit inquiries from other law firms, either to handle these inquiries or work as co-counsel.
About The Onder Law Firm
Onder, Shelton, O'Leary & Peterson, LLC is a St. Louis based personal injury law firm handling serious injury and death claims across the country. Its mission is the pursuit of justice, no matter how complex the case or strenuous the effort. Onder, Shelton, O'Leary & Peterson has represented clients throughout the United States, and other firms throughout the nation often seek its experience and expertise on complex litigation. It is a recognized leader in products liability cases such as window blind cord strangulation and pharmaceutical litigation. The Onder Law Firm's Risperdal male breast growth lawyers provide information to the public at http://www.risperdalgynecomastialawsuitcenter.com/.