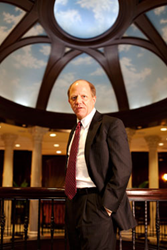 St. Louis, MO (PRWEB) May 22, 2014
Attorneys handling national Risperdal lawsuits for The Onder Law Firm report progress in the Risperdal lawsuits filed in Pennsylvania's Complex Litigation Center. According to court documents*, a Motion for Summary Judgment regarding Statute of Limitations was filed earlier this week, on Monday, May 19. This document proposes that persons filing Risperdal lawsuits who took the drug in 2006 or more recently will be considered in this court. A further meeting has been scheduled to discuss the nearly 400 Risperdal lawsuit cases pending under the title Risperdal Litigation, case number 100300296 in the Pennsylvania State Court. According to court documents, the meeting is scheduled to take place on Tuesday, July 15 at 11am. The Philadelphia Complex Litigation Center handles Mass Tort cases and is presided over by the Honorable Arnold L. New.
Janssen (a subsidiary of Johnson & Johnson) has encountered legal difficulties in numerous states and with the U.S. Department of Justice as a result of its marketing for Risperdal. In 2013, in the third largest pharmaceutical settlement in U.S. history, Janssen was ordered to pay $2.2 billion to the Department of Justice in criminal and civil fines for off-label marketing (United States of America v. Johnson & Johnson, U.S. District Court, District of Massachusetts, Case 1:07-cv-10288-RGS). Specifically, a press release from the DOJ states the company was penalized for targeting Risperdal marketing toward vulnerable populations such as children, the elderly, and persons with mental disabilities, despite known risks and lack of FDA approval for those populations. **
A settlement was reached in a Risperdal lawsuit in Montana (State of Montana v. Janssen Ortho, LLC and Janssen Pharmaceuticals, Inc., Montana First Judicial District Court, CDV-2008-164) during February of 2014, awarding $5.9 million to the state for misbranding and illegal marketing of the drug – similar to those claims resolved with the record DOJ Risperdal settlement.
Risperdal is an anti-psychotic drug prescribeed in a wide range of applications, including ADHD and dementia. Physicians are legally permitted to prescribe drugs for the uses they see fit; however, drug company marketing must adhere to regulations that allow advertising only for FDA-approved uses. According to a U.S, Department of Justice news release**, the DOJ Risperdal lawsuit asserted that, among, many other charges, Janssen specifically marketed Risperdal to children prior to FDA approval, between 1999 and 2005. This marketing took place despite alleged known health risks associated with Risperdal, including the risk for male breast growth or gynecomastia. As part of a marketing strategy to, "grow and protect the drug's market share with child/adolescent patients," the company sent its sales team to meet with child psychiatrists, call on psychiatric facilities for youth, and to encourage the use of Risperdal for a variety of youth disorders, despite a lack of approval from the FDA for such indications.
The Onder Law Firm welcomes inquiries from boys and men, and the family members of boys and men, who have developed male breasts and have a history of taking Risperdal. Lawyers handling Risperdal lawsuits are investigating these inquiries for possible Risperdal boys breast lawsuits against Janssen, a subsidiary of Johnson & Johnson. The Onder Law Firm is respected nationally for reaching major settlements in the areas of drug and medical device recalls, as well as product and family safety. The firm became a leader through its groundbreaking work on window blind cord strangulation. Boys and men who have developed male breasts and have a history of taking Risperdal, and the families of individuals who meet this description, are eligible to receive a free Risperdal lawsuit case review. To contact attorneys handling Risperdal lawsuits at The Onder Law Firm, please visit the firm's Risperdal Gynecomastia Lawsuit Center website.
The Onder Law Firm also welcomes Risperdal lawsuit inquiries from other law firms, either to handle these inquiries or work as co-counsel.
About The Onder Law Firm
Onder, Shelton, O'Leary & Peterson, LLC is a St. Louis based personal injury law firm handling serious injury and death claims across the country. Its mission is the pursuit of justice, no matter how complex the case or strenuous the effort. Onder, Shelton, O'Leary & Peterson has represented clients throughout the United States, and other firms throughout the nation often seek its experience and expertise on complex litigation. It is a recognized leader in products liability cases such as window blind cord strangulation and pharmaceutical litigation. No-cost case evaluation is available through the firm's Risperdal Gynecomastia Lawsuit Center at http://www.risperdalgynecomastialawsuitcenter.com.

fjdefile.phila.gov/dockets/zk_fjd_public_qry_03.zp_dktrpt_frames
** justice.gov/usao/can/news/2013/2013_11_04_johnsonjohnson.press.html