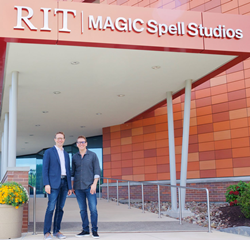 ROCHESTER, N.Y. (PRWEB) October 01, 2021
Rochester Institute of Technology's MAGIC Spell Studios is partnering with Pure Imagination Studios, an award-winning independent entertainment studio best known for combining proprietary technology with groundbreaking storytelling, to launch a satellite office and spatial computing studio in Rochester.
The studio, which develops original content and whose work-for-hire clients include DreamWorks, FOX, The LEGO Group, Marvel Entertainment, Warner Bros., and the recently announced "Army of the Dead" VR experience for Netflix, will collaborate with RIT faculty and students on a variety of initiatives—including animation, virtual/augmented reality (VR/AR), virtual production (VP), games, and new technologies.
The alliance, which will help to create a career pathway for RIT students in the entertainment industry, takes effect immediately.
The relationship between Pure Imagination Studios and RIT began in 2016, when John P. Roberts, chief content officer and a Rochester native, joined the RIT Entertainment Advisory Board (EAB). The EAB's mission is to raise awareness of RIT's entertainment-related disciplines among the entertainment community.
"MAGIC Spell Studios' mission is to provide our students studying animation, film, and game development with real-world professional experiences within the entertainment industry," said David Long, director of MAGIC Center and MAGIC Spell Studios. "By partnering with Pure Imagination Studios at RIT's state-of-the-art facilities, we will take the strong foothold and trajectory Rochester has in entertainment to the next level."
"We are excited for our students to contribute to great projects and to expand the spirit of research and discovery for RIT and Pure Imagination Studios," he added.
"We want to create career opportunities in the entertainment industry for the next generation of talent in Rochester, N.Y.," Roberts noted. "Over the last five years, I have had the pleasure of meeting many of RIT's faculty, students, and alumni. I am continually impressed by their accomplishments and look forward to offering them this unprecedented opportunity."
"We look forward to establishing Pure Imagination Studio's presence on the East Coast while collaborating with MAGIC on several cutting-edge entertainment initiatives, as well as discovering and fostering new talent at the university," he added. "It's an enormous privilege for Pure Imagination to partner with RIT and to be in a position to make a positive economic impact."
About the RIT MAGIC Center and MAGIC Spell Studio
The RIT Center for Media, Arts, Games, Interaction & Creativity (MAGIC) was founded in 2013 and is two distinct entities housed within a 52,000 square foot state-of-the-art facility known as MAGIC Spell Studios, which opened in 2018. At MAGIC, RIT believes that students and faculty learn by making; this guiding principle informs work and relationships and is at the heart of what it does. The MAGIC Center promotes the academic mission of the university by capitalizing on the energy, synergy, and convergence of multiple academic programs through project-based curriculum, faculty research, and scholarship. MAGIC is a digital sandbox for students and faculty who are interested in pushing the boundaries of technology, art, and design. MAGIC Spell Studios supports the entrepreneurial ambitions of students and faculty who are seeking to publish and distribute films, games, interactive experiences or start of new digital media studios. It also is the home of outside commercial activity in film production, animation, digital design, and game development, allowing outside companies to interact with RIT's best creative minds.
About Pure Imagination Studios
Pure Imagination Studios (http://www.pistudios.com) is an award-winning independent entertainment studio founded in 2012 that combines proprietary technology with groundbreaking storytelling to bring the next generation of entertainment to audiences of all ages. Led by Pure Imagination founders Joshua Wexler and Andrew Tucker, the studio's team of writers, artists, directors, designers, storytellers, producers, scientists, and experiential engineers have partnered with clients who are home to some of the most popular entertainment brands in the world. Their portfolio of projects have expanded fan engagement on multiple platforms for clients, including DreamWorks, FOX, The LEGO Group, Marvel Entertainment, Merlin, Netflix, Rovio, Six Flags, Warner Bros., and others. Projects include a diverse slate of animated television shows and specials including the upcoming action-adventure series "The Amazing Stan," Capcom's "Monster Hunter," cultural experiences, digital-series, theme park attractions, immersive experiences, and virtual and augmented reality, including the groundbreaking Alien Descent VR experience and the upcoming Army of the Dead: Viva Las Vengeance" (Netflix) VR experience. Pure Imagination is headquartered in Los Angeles, Calif.