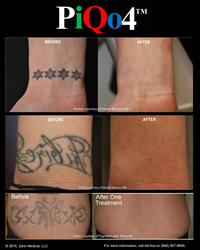 The PiQo4 laser has 4 wavelengths (which is like having 4 different lasers in one machine)
CHICAGO, Illinois (PRWEB) February 17, 2016
Ritacca Cosmetic Surgery & Medspa is proud to be the first in the state of Illinois to offer the breakthrough technology of the new PiQo4™ laser, the first 4-wavelenth picosecond laser to receive FDA Clearance. This new laser system is capable of treating more tattoo inks than any other picosecond laser on the market. Dr. Daniel Ritacca, who treats over 250 tattoos each month, says "We want the safest and most superior lasers on the market that treat the most colors: that is why we chose the PiQo4 Laser." He adds:
"We have used all types of lasers for tattoo removal, including RevLite and even Erbium lasers. Today, the use of the PiQo4 laser allows us treat effectively and safely 96% of ink colors in anywhere from 3-5 treatments. We are so confident in our cutting edge lasers; we offer a tattoo removal guarantee*!"
In our experience, the previous lasers worked pretty well, but there were many problems.

An unacceptably high incidence of side effects like scabs and blisters.
There was also a point where the lasers peaked and the tattoo removal process quit responding and would not allow those systems to remove any more ink. The new PiQo4 laser system has solved all those problems!
We are now able to remove tattoos with less pain, fewer treatments (cut treatments in half or less) and faster recovery time.
The PiQo4 laser can treat large tattoos in just a few minutes. The previous lasers only allowed you to treat small 1-3mm areas at a time, the PiQo4 allows you to treat up to 15mm in diameter.
Most other lasers have difficulty treating the most common tattoo colors since most lasers have only one or two lasers (wavelengths) that target only certain ink colors. PiQo4 has 4 lasers that greatly increase the likelihood of reducing/removing tattoos since studies indicate that nine of the most common tattoo colors are highly absorbed by wavelengths that are found in the PiQo4 system. Previous lasers were only effective in treating 3 tattoo ink colors. And, with the higher power, we can even get great results on recalcitrant tattoos that had plateaued.
Additionally, other laser systems are limited to lighter skin types, whereas the PiQo4 is safer on both darker and lighter skin types. Dr. Ritacca stated that was an important factor in their decision to choose the PiQo4 laser. They have a high volume practice with a large multicultural population. Now, they can provide the proper treatment to all skin types and the broadest range of ink colors.
Dr. Ritacca added "Technology has changed; I've been one of the first clinics in the country to more recently include a new, novel laser, the PiQo4 that has both the highest power Q-switch technology and picosecond energy in one device. This laser is between six to ONE HUNDRED times more powerful than those any other cheap Q-switch lasers. This power difference allows me to clear those remaining inks. The difference in horsepower is like taking a Prius to a Nascar race! It's just not in the same league!"
This versatility allows for much faster tattoo clearance, as well as an answer for the tens of thousands of frustrated patients with resistant inks and lingering tattoos and shadows.
My office often is the first in the area to offer cutting edge technologies from treatments for body shaping to facial plumping, and now I'm very proud to be considered as the lead practice where people in the Chicago area can come to make their tattoos a thing of the past. Erasing tattoos has never been easier, safer, or better."
About Ritacca Cosmetic Surgery & Medspa
Ritacca Cosmetic Surgery & Medspa is a full service medical spa and cosmetic surgery center that specializes in medical grade facials, injectables, laser rejuvenation for the face & body, non-invasive body contouring treatments, tattoo removal, vein treatments, cosmetic surgery & hair restoration. Dr. Ritacca has implemented the Gang Outreach Program in Illinois where former gang members can remove old gang tattoos at minimal cost while they break free from the gang and improve their lives. For more information, visit http://www.RitaccaLaserCenter.com
About the PiQo4
The PiQo4™ system is available from Zarin Medical™. Zarin provides a suite of lasers for aesthetic procedures (hair removal, photorejuvenation, vascular conditions, etc.) and medical conditions (feminine rejuvenation, urogynecology, etc.) Zarin can be reached toll-free at (844) 927-4600. Visit http://www.ZarinMedical.com for more information.
Contact Information:
Ritacca Cosmetic Surgery & Medspa
Gina Jednachowski
Contact: 847-367-8815
grisel(at)ritaccalasercenter(dot)com
*Tattoo removal guarantee after 6 sessions (on qualifying tattoos)