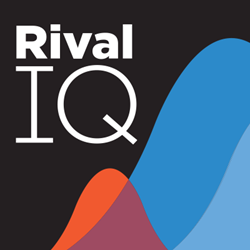 "Rival IQ enables my social and content marketing teams to see the data they need to make better strategic decisions." - Eric Wong, vice president of marketing at Conga
Seattle, Washington (PRWEB) December 07, 2016
Rival IQ, the leader in social marketing analytics and insights, today announced the release of its robust API designed to deliver key business data directly into existing systems for marketing teams and technology partners. Part of its December product release, the API launches alongside product enhancements that include more customizable data reports and visualizations, and usability upgrades enabling customers to communicate marketing value better and take action. Focused on customization, automation, and data flexibility, this release gives Rival IQ customers countless ways to consume their social data.
"We hear more and more about companies streamlining their reporting efforts," said Seth Bridges, head of product at Rival IQ. "This latest release allows marketers to connect their social data to their internal communication and reporting systems. Now, our customers can tailor their social media data in a way that suits them best."
Using the newest features, Rival IQ customers can now:
Integrate data seamlessly - Share social reporting across entire organizations with a robust API. With aggregate cross-channel, single-channel, and top post analytics, organizations can now consume critical marketing data through a single workflow.
Deliver tailored reports - Transform data into a compelling story with new customization options. By leveraging the custom chart creator and high-density PDF export tool, Rival IQ customers gain complete flexibility in report generation. They can customize and consume their data in a way that works best for them in accomplishing their goals.
Access results swiftly - Usability upgrades allow users to pinpoint answers and take action quickly. These usability optimizations make for an intuitive navigation experience and efficient access to their data.
"The latest release builds on the significant flexibility we have in accessing our social data through Rival IQ," said Eric Wong, vice president of marketing at Conga. "Rival IQ enables my social and content marketing teams to see the data they need to make better strategic decisions."
Rival IQ delivers digital marketing analytics with a competitive and comparative context. Their goal is to equip marketers with a toolkit to set a winning social media strategy that increases revenue and achieves their marketing goals. By uncovering new opportunities, identifying trends, and tracking results across all the key social channels and on the web, Rival IQ allows marketers to have informative data to make better business decisions. Using Rival IQ's robust API and customizable reporting features, marketers can better demonstrate how their social media efforts drive value for the business and impact the bottom line. Insights revealed in these reports help marketers set tangible benchmarks, make data-driven marketing decisions, improve results and better understand competitors.
Marketers looking to learn how to access the data that turns a social marketing strategy from a 'nice-to-have' to a 'must-have' may register here for Rival IQ's "Justifying Social Media" webinar, which will take place on Wednesday, December 14th.
Developers, leadership and marketers looking to learn more about Rival IQ's API can visit https://www.rivaliq.com/developers. Businesses looking to evaluate their social media performance more effectively may sign up for a free trial of Rival IQ at http://www.RivalIQ.com.
Contact:
Danica Benson
Rival IQ
media(at)rivaliq(dot)com
About Rival IQ
Rival IQ helps digital marketers make more informed content decisions, better understand their audiences and improve their social media engagement using Rival IQ's clear analytics and competitive intelligence insights. For more information, visit http://www.rivaliq.com, call +1.206.395.8572, or follow us on Twitter, LinkedIn and Facebook.