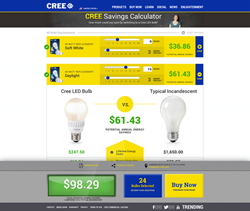 We are so proud of the Cree Savings Calculator because it educates the public about the advantages of using LED bulbs
CHAPEL HILL, NC (PRWEB) September 09, 2014
Rivers Agency, a full-service advertising firm, has launched a new interactive online savings calculator for Cree®, the market-leading innovator of LED lighting, that helps consumers across the United States gauge how much money they could save by switching to Cree LED bulbs.
Located at creebulb.com/learn/savingscalculator, the Cree Savings Calculator enables consumers to make more informed choices when purchasing new light bulbs for use in residential, commercial or outdoor spaces. Through a series of easy-to-use interactive "sliders," consumers can obtain instant information about the potential annual cost savings for LEDs based on the exact number of light bulbs they plan to replace and the hours per day the bulbs will be illuminated.
The tool pulls data directly from the U.S. Energy Information Administration (EIA) to make its calculations. Consumers can view lifetime and annual energy costs for both Cree LED bulbs and traditional incandescents.
"We are so proud of the Cree Savings Calculator because it educates the public about the advantages of using LED bulbs," said Lauren Rivers, president of Rivers Agency, a full-service North Carolina ad agency and website development firm "Through our smart design and interactive approach, we've enabled Cree to tell its story of innovation in a new and exciting way."
The tool facilitates immediate brand advocacy through sharing tools that sync with Facebook, Twitter, Google+ and email. In addition, users can download a PDF shopping list that includes their preferred bulb needs and can identify the closest retail location to make a purchase. And since the Cree website is fully responsive, consumers can engage with the tool on any computer, tablet or phone.
The timing for creating the new Cree Savings Calculator couldn't have been better as Rivers Agency was in the midst of moving its offices during the development process. Rivers Agency staff gave the tool a test-drive to determine the best lighting approach for the agency's new space on the ground floor of Greenbridge Condominiums at 601 W. Rosemary St., Space 108, in Chapel Hill. After entering the number of bulbs and estimated daily usage, it was clear that Rivers' new office was perfectly suited for Cree LED bulbs.
One of North Carolina's top web design agencies, Rivers Agency also built the groundbreaking CreeBulb.com website with Cree in 2013. Rivers Agency – one of the leading ad agencies in the Chapel Hill, Durham and Raleigh, N.C. markets – looks forward to providing creative marketing solutions that will further establish Cree as the market leader in LED lighting.
About Rivers Agency:
Rivers Agency is a full-service advertising agency offering integrated marketing and advertising, public relations, print design, web design and development, and TV and video production – all leveraging the latest in digital, social and mobile technologies. As the fifth-largest agency in the Triangle area of North Carolina, Rivers provides a mix of expertise in cross-platform design – from print to web to video and beyond – that enables the agency to provide maximum results for each client. http://www.riversagency.com
Cree® is a registered trademark of Cree, Inc.
# # #
For media inquiries, contact Rivers Agency:
Sarah Lamm
publicrelations(at)riversagency(dot)com
919-932-9985