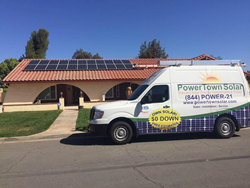 Make Your Roof Work for You! Lower or Eliminate your Energy Bills!
Riverside, CA (PRWEB) June 02, 2016
PowerTown Solar receives award for Best Business of Riverside in the category of solar installation for 2015. PowerTown Solar appreciates everyone for all the support for this recent accomplishment and are looking forward to achieving this award again for 2016.
Each year, the Best Businesses of Riverside Award Program identifies companies that are believed to have achieved exceptional marketing success in their local community and business category. These are local companies that enhance the positive image of small business through service to their customers and their community. These exceptional companies help make the Riverside area a great place to live, work and play.
Various sources of information were gathered and analyzed to choose the winners in each category. The 2015 Best Businesses of Riverside Award Program focuses on quality, not quantity. Winners are determined based on the information gathered both internally by the Best Businesses of Riverside Award Program and data provided by third parties.
Helpful Tips on Choosing the Right Solar System Installer
Once a consumer makes the decision to install a rooftop solar system to reduce their electric bill and decrease the environmental footprint, the next step is choosing a reputable solar company in Riverside (http://www.powertownsolar.com/). As solar energy is gaining popularity on homes and businesses, the prevalence of installation companies is increasing to meet the demand. But not all solar installers can provide the expertise, high-quality workmanship, and reliable customer service to ensure a system performs efficiently to provide the highest return on investment.
Here are some suggestions to help find the best installation company, so that a customer's bright idea to go solar isn't tainted by a shady installer:
Recommendations and Reviews
A good way to begin the search is by asking family members, friends, neighbors and co-workers about their experience with local installers. Then check the better business bureau of who serves the area. Also, Google company reviews by actual customers are a great way to determine which companies have provided satisfactory experiences, and which have generated complaints. While a high rating indicates a company is more likely to provide a positive customer experience, keep in mind that an occasional bad review is bound to happen. What the solar installer did to correct a negative experience can provide insight into their level of integrity and their dedication to customer satisfaction.
California customer Gary Store was so impressed with Powertown Solar, he quoted the following, "We have had our solar installation for about a month now. Ernesto, the owner, is very good at what he does. I have known for years that I wanted solar but the costs were way too high, especially for the system set-up that I wanted. We were recommended PowerTown Solar from a friend. I was thinking it was going to be just another quote, but Ernesto impressed me with his knowledge and his recommendations."
About PowerTown Solar
PowerTown Solar Electric Inc. is one of the most trusted, highly respected turnkey Solar Power Companies http://www.powertownsolar.com/, servicing our always shining Southern California. As a family-owned business, our integrity, values and exceptional work ethics have placed us among the top 5% of 336,931 contractors in California.
Our mission is to educate homeowners about the importance to adopt solar as an alternative source of energy which is clean, reliable, renewable, good for the environment and best of all, helps SAVE MONEY on electricity bills.
Phone: 844-769-3721
Office Location:
8175 Limonite Ave., Suite A
Riverside CA 92509
http://www.powertownsolar.com/