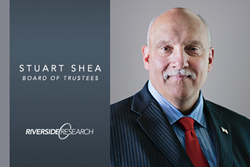 "Mr. Shea's proven track record of success in both executive and board positions will bring tremendous value to Riverside Research," said President Richard Annas, Riverside Research.
NEW YORK, NY (PRWEB) June 26, 2015
Riverside Research, a not-for-profit scientific research company primarily serving the US Department of Defense (DOD) and the Intelligence Community (IC), is honored to announce the election of Mr. K. Stuart Shea to its Board of Trustees. Mr. Shea is a business leader and intelligence professional serving in an advisory capacity to public and private companies, government agencies, private equity investors, and academic institutions. Having accumulated over 30 years of executive leadership experience with technology-based companies supporting the IC, DOD, and commercial customers, Mr. Shea will provide a wealth of knowledge and wisdom regarding strategy, business development, and growth.
Mr. Shea is the former President and Chief Operating Officer of Leidos, a $6 billion scientific, engineering, and technology company. Prior to that role, he served as the Chief Operating Officer (COO) of Science Applications International Corporation (SAIC), an $11 billion FORTUNE 500® scientific, engineering, and technology company. Under his leadership, SAIC was separated into two publicly traded companies - Leidos and SAIC. Prior to being named COO, Mr. Shea led SAIC's support to the National Security Community as President, Intelligence, Surveillance, & Reconnaissance Group. With nearly 13,000 employees and over $4 billion in revenues, his Group developed technology solutions for customers across the full spectrum of national security programs, including: cybersecurity; human intelligence, surveillance, and reconnaissance; signals intelligence; geospatial intelligence; operational intelligence; support to special operations forces; intelligence analysis; linguistics; offense and defensive counter-space; and the development of technologies to support the fight against global terrorism. Prior to SAIC, he spent 18 years with TASC, where he held several director-level positions, culminating as the Vice President, Space & Intelligence in the TASC business unit of Northrop Grumman Corporation. Prior to TASC, Mr. Shea spent six years with PAR Technology Corporation, culminating as a Technical Director.
"Mr. Shea's proven track record of success in both executive and board positions will bring tremendous value to Riverside Research," said President Richard Annas, Riverside Research. "His insight and leadership will guide us through an exciting time of growth."
Presently, Mr. Shea serves on several advisory Boards, including George Mason University College of Science, National Intelligence University Foundation, University of Kansas College of Liberal Arts and Sciences, and the United States Geospatial Intelligence Foundation as emeritus Chairman. Mr. Shea is a Fellow, American Congress on Surveying and Mapping. He is a 2009 recipient of the Federal Computer Week Fed100 award for the top executives in the information technology industry and a 2013 inductee into the Executive Mosaic Washington 100, the premier group of leaders who drive innovation and growth at the intersection of the public and private sectors. He is also a 2014 winner of the Washington Business Journal, Outstanding Director award. In association with the National Association of Corporate Directors, the award honors high performing outside directors whose service to their boards has been exceptional.
Mr. Shea holds a Master of Arts from The University of Kansas, a Bachelor of Science from the State University of New York at Albany, and has attended executive development programs at University of Virginia - Darden Graduate School of Business Administration, Harvard Business School, University of Pennsylvania - The Wharton School, and The George Washington University - School of Business and Public Management.
About Riverside Research
Riverside Research is a not-for-profit organization chartered to advance scientific research in the public interest and in support of the United States government. Comprised of leading engineering, technology, and operations experts, Riverside Research delivers trusted solutions in Biomedical Engineering, Cyber, Electromagnetic Sciences, and Intelligence, Surveillance, and Reconnaissance. These Centers of Excellence are supported by five integrated research laboratories that conduct independent and mission-focused research in critical technology areas. Originating as part of Columbia University in the 1950s and established as an independent corporation in 1967, Riverside Research remains dedicated to its academic heritage by working with colleges and universities from across the nation to advance science, technology, engineering, and math (STEM) through education, research, and workforce development. Learn more at http://www.riversideresearch.org.